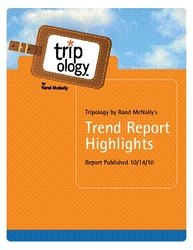 Overall our third quarter trend report reveals a very positive holiday and post-holiday travel outlook, based on the continued rise of consumer trip budgets compared to last year as well as the increase in advanced planning for trips
Skokie, IL (PRWEB) November 11, 2010
Tripology, the leading online travel referral service and a service of Rand McNally, today announced findings from its newly published Third Quarter Travel Trend Report, indicating a positive outlook for travel this upcoming winter season. Some of the most interesting findings revealed by the research are the top requested holiday travel destinations, an increase in the total number of days until trip departures, as well as a new all-time Tripology high in average consumer trip budgets.
Key findings for the 2010 Holiday travel forecast are as follows:

The Top Five Most Requested U.S. Cities: Las Vegas, Orlando, Honolulu, New York City and Ft. Lauderdale.
The Top Five Most Requested Travel Destinations: United States, Caribbean, Asia, Western Europe and Mexico.
"Overall our third quarter trend report reveals a very positive holiday and post-holiday travel outlook, based on the continued rise of consumer trip budgets compared to last year as well as the increase in advanced planning for trips," said John T. Peters, Vice President and General Manager of Digital Strategy and Travel of Rand McNally. "Not only are consumers beginning to plan and book their vacations and post-holiday travel arrangements further out than they have in the past few years, but they are also willing to spend more money for a quality vacation experience -- taking more time to plan a memorable trip, rather than waiting for last minute travel deals and slashed rates as was the big trend last year."
Additionally, the Tripology Trend Report reveals the following Tripology.com stats:

A significant positive trend continues at Tripology.com for online consumers looking to be connected with offline travel specialists, even through the recession
Las Vegas continues to be a top requested city for many looking for a travel specialist
The top requested countries since January 2010 have been: U.S., Mexico, Bahamas, Italy, Jamaica, U.K., France and Spain
Roughly 75 percent of traveler's requests are for trips with a duration of fewer than eight days
The average budget per trip increased by nearly 20% from first quarter 2010. The new average consumer trip budget starts at $5,663 per trip - Tripology's highest trip budget since January 2009.
The number of days until departure (the amount of time between quote request and beginning of trip) increased to 130 days.
The Tripology Trend Report is sponsored by the Association of Travel Marketing Executives, and is published quarterly by Tripology, a service of Rand McNally. To receive the complete findings of the most recent Trend Report, please send a request via email to press(at)tripology.com or direct message (at)Tripology on Twitter.
Tripology is the leading online travel referral service that matches consumers with travel specialists, known as Tripologists, based on their specific vacation request. The service provides the best of both worlds for travelers and travel professionals. For travelers, Tripology combines a content-rich online experience with access to travel professionals for the personal attention and service they seek. For travel specialists, Tripology is a cost-effective way to get qualified travel leads. It enables agents to harness the immense reach of the Web, then work one-on-one with prospective clients to cultivate a customer for life.
For additional information about Tripology, visit Tripology.com or RandMcNally.com. Travel specialists can access the company's dedicated agent website at Tripology.com/agent for information on how to become a registered Tripologist.
About Tripology
Tripology, a service of Rand McNally, is an online travel referral service connecting travel specialists with high intent travelers. The company's dedicated travel agent web portal, Tripology.com/agent, provides traditional and home-based agents a cost effective way to increase sales and profits with qualified travel leads.
Travel specialists maintain control of the leads they choose to purchase and the ability to alter their profile at anytime for maximum exposure to travelers seeking their specific expertise and personalized service. Using proprietary technology to match travel professionals with consumer requests, the company has received and processed more than 150,000 trip requests since Tripology.com launched in June 2007. For more information, visit Tripology.com.
About Rand McNally - Rand McNally is the most trusted source for maps and directions, navigation, and travel content. Rand McNally's products and services include: Interactive travel service, Tripology; America's #1 Road Atlas; navigation and mileage products for the commercial trucking market; and the leading geography-based educational resources for the classroom. Consumers, businesses, truckers, and educators depend upon Rand McNally to help navigate today's world.
MEDIA CONTACTS:
Marlene Oliver, NJC Communications
(305) 491-0512, moliver at njccorp.com
Cassie Dittrich, NJC Communications
(802) 522-0714, cdittrich at njccorp.com
###