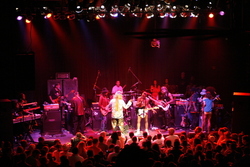 "I do this for my band, no one is greater than the other, not even me," Clinton states.
Houston, TX (PRWEB) October 20, 2010
The following is a press release from musical legend George Clinton, leader and founder of Parliament-Funkadelic concerning the unbalanced depiction of George Clinton and Parliament- Funkadelic in an episode of TV One's 'UNSUNG' documentary series. The show, which originally aired Monday, October 11, 2010 and featured Clinton and his group, was a poor representation of the band and Clinton's life today and at best, dismissive.
While "Unsung" dealt briefly with Clinton's legal battles, it failed to mention Clinton's victory in regaining control and ownership of 4 Funkadelic albums, which include "One Nation Under A Groove" and "(not just) Knee Deep." Also, Clinton recently prevailed via settlement with Capitol/ EMI and won an appellate ruling in his battle against music giant Universal Music Group.
Additionally, 'UNSUNG' failed to mention the positive things Clinton is doing like:

Donating 25% of the Funkadelic catalog and $10K on behalf of the band to the Barack Obama Green Charter High School in Plainfield, New Jersey this school year.
Donating 10% of the catalog to 2 local Plainfield, New Jersey churches and 1 temple.
Clinton's on going support for education through his Mother's Hip Connection Education Foundation.
Clinton and Parliament-Funkadelic still tour regularly in high demand and love to be near their fans.
Clinton hoped that more would have been said about the other members – past and present – who have contributed to the success of Parliament – Funkadelic and inclusion in the Rock and Roll Hall of Fame.
"I do this for my band, no one is greater than the other, not even me," Clinton states.
"If it wasn't for band mates like William 'Bootsy' Collins, Eddie Hazel, Bernie Worrell, Walter 'Junie' Morrison, Garry 'Starchild' Shider, Michael 'Kidd Funkadelic' Hampton, Dewayne 'Blackbyrd' McKnight, Glen Goins, Jerome 'Bigfoot' Brailey, Ramon 'Tiki' Fulwood, 'Billy Bass' Nelson, Cordell 'Boogie' Mosson, Phelps 'Catfish' Collins, Clarence 'Fuzzy' Haskins, Ray 'Stingray' Davis, Calvin Simon, Grady Thomas, and a host of other wonderful musicians who lent their time and talent, I could have never created this style of music without them," says George.
Clinton is committed to passionately seeking justice through the courts, not only for himself but for band members like the late Garry Shider who recently died and, like Clinton, lost his music catalog to Clinton's opposition.
"That's why I fight, for my band, it's only right" says, Clinton.
###