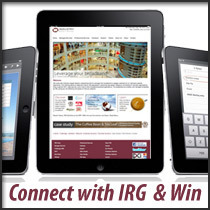 "We enjoy strong relationships with our customers and partners. We're constantly sharing our 'leveraging broadband' platform, and our Connections newsletter and social media will help us further engage those we serve." - Mike Luzio, CEO
Bethesda, MD (PRWEB) January 26, 2011
Industry Retail Group, Inc. (IRG) (http://www.industryretail.com), a leading provider of retail-centric broadband-based applications and services, announced its new company newsletter, IRG Connections. The newsletter, introduced late 2010, features business intelligence designed to help retailers leverage their broadband as well as the latest company news and events. IRG Connections addresses the unique challenges and opportunities multi-site retailers, restaurant, and QSR chains face.
As incentive to sign up, IRG is holding a contest for a new Apple iPad. Interested retail professionals gain one entry each for signing up for IRG Connections, another entry for liking the IRG Facebook page, and another entry for connecting on Twitter. CEO Mike Luzio shared, "We enjoy strong relationships with our customers and partners. We're constantly sharing our 'leveraging broadband' platform, and our Connections newsletter and social media will help us further engage those we serve." The company believes connecting with its customers and partners on their own terms is one way to add value and convenience to their relationships.
Qualified professionals working in the retail, restaurant, or QSR industries can enter to win on the company's website, http://www.industryretail.com/connections.html. Alternatively, entrants can e-mail their contact information to connect(at)industryretail(dot)com.
Luzio added, "We felt an iPad was an appropriate prize, as retailers can conveniently access the IRG Management portals, TruManage and vAULT, from it. We're looking forward to connecting with our customers and partners through these popular avenues."
IRG Connections will be distributed monthly, with occasional announcements of news and relevant events. Industry Retail Group assures its customers and partners their information will never be shared under any circumstance.
About Industry Retail Group
IRG is a premier provider of broadband-enabled network services, serving retailers and other multi-site companies across the globe. IRG partners with its clients to serve as a single, comprehensive source for industry-specific managed broadband-related services and solutions, while offering 24/7/365 proactive, dedicated support from one of our multiple Network Operation Centers. IRG has a growing client base including Fortune 1000 retailers with locations worldwide. IRG also provides valuable overlay applications including Hotspot and Enterprise Wi-Fi solutions, Hosted VoIP, and IP-based Video Surveillance to name a few. These bottom-line impacting services allow clients to further leverage their WAN investment while being assured IRG handles multiple aspects of their clients' security component WAN infrastructure as a VISA PCI DSS Validated Service Provider.
###