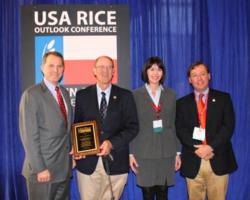 America's rice producers are critical to the health and future of waterfowl. DU is dedicated to keeping rice growers profitable and abundant because what's good for rice is good for ducks. –DU CEO Dale Hall
AUSTIN, Texas (PRWEB) December 09, 2011
The USA Rice Federation presented Ducks Unlimited with its second annual Distinguished Conservation Achievement Award yesterday. The award recognizes exemplary leadership and other major contributions to conservation that significantly benefit natural resources, wildlife and America's communities. Ducks Unlimited First Vice President George Dunklin and Senior Vice President Paul Bonderson Jr. accepted the award on behalf of Ducks Unlimited.
"As an Arkansas rice farmer, conservationist and avid duck hunter, it is a great honor for an organization that I have such passionate feelings about to be the recipient of this prestigious award," said Dunklin. "Nothing makes me prouder than to have my rice industry recognize DU's tremendous contributions to the world of conservation and wetlands. And I can assure you that Ducks Unlimited considers America's rice growers to be distinguished conservationists and key partners as well."
Ducks Unlimited has a long history of partnering with rice producers to provide habitat for North America's waterfowl. Studies have shown that flooded rice fields are a primary food source for dabbling ducks during migration and on wintering areas.
"Three regions support more than half of all wintering dabbling ducks in the United States. It's no coincidence that those three areas are also our nation's primary rice-growing regions," said DU CEO Dale Hall. "America's rice producers are critical to the health and future of waterfowl. DU is dedicated to keeping rice growers profitable and abundant because what's good for rice is good for ducks. We thank the USA Rice Federation for recognizing DU today and helping ensure the future of North America's waterfowl through habitat conservation."
Nearly 3.4 million acres of rice are grown in the United States each year. After harvest, many rice producers flood their fields, providing critical food and habitat for migrating and wintering waterfowl.
"Ducks Unlimited is an outstanding conservation organization," said Linda Raun, USA Rice Producers' Group chairman and charter member of the USA Rice Federation. "DU's conservation, restoration and management of wetlands and associated habitats for North America's waterfowl; its understanding of the challenges facing waterfowl conservation; and its vision to address the challenges made the choice of Ducks Unlimited a most deserving one."
Ducks Unlimited is the world's largest nonprofit organization dedicated to conserving North America's continually disappearing waterfowl habitats. Established in 1937, Ducks Unlimited has conserved more than 12 million acres thanks to contributions from more than a million supporters across the continent. Guided by science and dedicated to program efficiency, DU works toward the vision of wetlands sufficient to fill the skies with waterfowl today, tomorrow and forever.
###