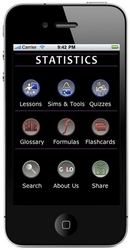 The Statistics 1 app was useful on both devices but … I bring my phone with me everywhere I go so it was a lot more practical to use the app on my iPhone
Austin, TX (PRWEB) January 24, 2011
GetYa Learn On (GYLO), an Austin-based educational software company, today announced results from research investigating how college students use the iPhone/iPod Touch compared to the iPad while studying for an Introductory Statistics class at Abilene Christian University (ACU). The app used in the research, "Statistics 1", is an e-textbook that has been tested for three semesters at ACU and students have consistently reported that it helps them learn statistics and save time.
During the Fall 2010 semester, students in the class used the app on both iPhones/iPod Touches and iPads. Preliminary findings showed that 60 percent of students reported that for studying and test preparation, they preferred the iPad version because of the larger screen size; however, students reported that having the iPhone/iPod Touch version was equally important because the device is always with them.
"The Statistics 1 app was useful on both devices but … I bring my phone with me everywhere I go so it was a lot more practical to use the app on my iPhone," said one student. Another student relayed that, although the size of the iPad allowed for easier navigation, the iPhone app was far more useful "because it was more accessible and always with me."
In a questionnaire given to the class at the end of the semester, 86 percent of students involved in the study reported that using the "Statistics 1" e-textbook app helped them study statistics. The specific parts of the app that were reported to be most helpful included the examples in the lessons, quizzes with feedback, flashcards, glossary, and the Standard Deviation calculator.
"We're witnessing an educational revolution, one defined by students harnessing the power of smartphones and mobile devices to drive their own learning," stated Priya Nihalani, M.A., GYLO's Chief Research Officer. "Our findings confirm our hypotheses that use-patterns differ based on the form factor of the device."
ACU and GYLO have collaborated since 2009 to explore factors that affect learning with the iPhone and iPad in the context of higher education. Nihalani and GYLO's CEO, Dr. Michael Mayrath, will be presenting on the future of e-textbooks and mobile classroom applications at ACU's Connected Summit in late February.
The "Statistics 1" e-textbook app will be on sale for a limited time starting Tuesday, January 25 on the iTunes Store. The app will soon be available for Android devices.
For more information about GYLO, visit GetYaLearnOn.com, follow us on Twitter, or be our fan on Facebook.
GetYa Learn On, LLC. is a private company headquartered in Austin, Texas and founded in 2008. The company is comprised of a team of experts from software development, educational psychology, instructional technology, and measurement and evaluation. GetYa Learn On develops innovative educational applications and games based on research in education and instructional technology design.
© 2011 GetYa Learn On Intellectual Property. All rights reserved. GetYa Learn On, the GetYa Learn On logo and all other marks contained herein are trademarks of GetYa Learn On Intellectual Property. All other marks contained herein are property of their respective owners.
###