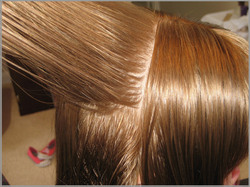 "40% of women in the US have visible hair loss by age 60" -Reported by the American Acedemy of Dermataology
(PRWEB) January 12, 2011
Millions of people suffer from hair loss in the United States. It effects people of all ages and ethnic backgrounds. In fact, the website HairLossTalk.com states, "Nearly 2 million children suffer from at least one form of Alopecia (hair loss) or another in the United States alone." As for women, the site reports, "Nearly 40% of women by age 60 experience some form of hair loss". California based, Charle...a hair studio, has specialized in providing customized solutions for hair loss, of every type and degree, for 30 years. Charle Dewitt, the expert hair replacement specialist that started this business, says, "Most people don't realize that hair loss is certainly not exclusive to middle aged men "
Hair loss has many different causes and levels of severity. Conditions include: Alopecia Areata/Totalis/Universalis, Chemotherapy/Radiation, and Trichotillomania (hair pulling). Alopecia is the medical name for hair loss. The most common variation of this condition is Androgenetic Alopecia (aka hereditary thinning or male/female pattern baldness), which is by far the most common type. This form is characterized by diffused thinning of hair all over the head. Oftentimes more pronounced thinning occurs on the top of the head and the crown.
While it is typical to see men w/ visibly thinning or total loss of hair, millions of women actually suffer from this very same condition. In our society, it isn't easy for a woman to walk around with her head held high, if her hair is falling out. Hair loss can be absolutely devastating for the psychological well being of female sufferers, in particular. This is much more than a mere cosmetic inconvenience.
Other types of hair loss include: Alopecia Areata- hair falls out in patches from the scalp and/or body. Alopecia Totalis- complete loss of scalp hair. Alopecia Universalis- universal loss of head and body hair. All forms of Alopecia can occur at any age, sometimes hair grows back, yet if so, often falls out again. Treatment methods, such as creams, cortizone or other steroid injections, pills, medicated shampoos, etc., are generally ineffective and often produce unpleasant side effects. To date there is no reliable cure.
Fortunately there are options. It is possible to have a full beautiful head of human hair even when you have little to none of your own. There are comfortable, natural looking and feeling alternatives to "wig shop" synthetic or stock wigs. For 30 years, Charle Dewitt, owner of Charle…a hair studio, has specialized in designing natural, beautiful, human hairpieces. She has become well known within her field, being labeled, "the guru of hair replacement", by Dr. Dean Edell, on his informative and long running radio program. Her work has also been featured on The Today Show and Extreme Make-Over.
Charle…a hair studio is not a typical wig shop, by any means. The specific needs of each client are addressed according to the type of hair loss they are experiencing. Every unit is custom designed using the finest quality human hair on the market. Charle and her two expert assistants are there every step of the process, from the consultation to the styling- they do it all and that is truly what sets this business apart. Clients never deal with reps or salespeople during their highly personal experience at Charle… a hair studio.
For more information on cutting edge, custom made, human hair wigs, partials and integration units from Charle…a hair studio:
Call: 1-1888-680-HAIR(4247)
E-mail: Chdewitt(at)aol(dot0com
###