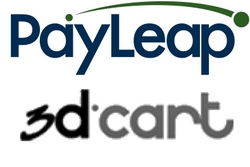 Bringing Payleap's payment solutions into our ecommerce platform and offer it to all existing and new merchants is part of our company's continued effort on helping internet businesses expand and grow their sales
Chicago, IL (PRWEB) January 4, 2011
PayLeap, a company that offers electronic payment services, and 3DCart, leading shopping cart software and VISA PCI certified provider, are proud to announce a partnership aimed a providing a sensible solution for online merchants.
As an electronic payment service provider, PayLeap holds its customers' online safety as highest priority. It prides itself as a company that "specializes in delivering the highest quality of services by treating our customers with honesty, integrity, and respect. PayLeap's core value and highest priority is to be an ethical steward for those it serves," according to its mission statement.
3DCart, an INC 5000 south Florida based company, has over 10 years of experience as leaders in the ecommerce industry. Their ecommerce services include everything from hosting, shopping cart software and web design, to ecommerce marketing. 3DCart is able to design and implement innovative and customized web solutions to meet a company's specific requirements. Whether clients are looking to update their existing web store or develop a completely new design, 3DCart maintains a flexible approach to ensure they provide the right solution for the company.
Now the two companies will work together to offer simplicity and safety to customers and merchants using the Internet to buy and sell goods. 3DCart will be able to offer PayLeap's bundled gateway and merchant account to merchants as an affordable and an innovative payment solution.
"The first challenge new businesses face when opening an online store is the selection of a payment processor to take credit cards," said Jimmy Rodriguez, CTO of 3DCart. "Bringing Payleap's payment solutions into our ecommerce platform and offer it to all existing and new merchants is part of our company's continued effort on helping internet businesses expand and grow their sales."
"3DCart provides online merchants and their customers with confidence when buying or selling online. They do this by providing a user-friendly yet highly customizable e-commerce platform. We are so pleased that PayLeap's payment solutions are now available within suite of tools that 3DCart provides to their user base," PayLeap Vice President of Business Development Daryn Barney said.
The partnership is designed streamline acquiring secure payment acceptance tools and reduces cost and pain points that online merchants may encounter.
About PayLeap
Priding itself on service, the PayLeap mission is to be an outstanding corporate citizen in the electronic payments industry. Transparency, simplicity and service are the core values of the innovative payment processor. Visit http://www.payleap.com/ to learn more about the PayLeap's services.
About 3dcart:
3dcart (http://www.3dcart.com) is a complete e-commerce solution for new or existing websites. The company's services include the tools, advice, support, and technology to manage an entire online operation, so merchants can focus on managing their business.
# # #