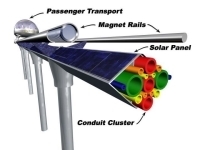 Modular Mass Produced Magnetic Levitation Rail Network designed explicitly for the Interstate Highway system
Detroit, MI (PRWEB) January 5, 2011
The Interstate Traveler Company LLC has been working internationally for more than eight years since the first publication of their insightful plans to build a national magnetic levitation high-speed rail network. Since day one, their plan has been to use Detroit factories and skilled labor to mass produce it. They say the system is powered by solar panels that help make hydrogen and they call it the Hydrogen Super Highway. The inventor from the suburbs of Detroit, Justin Sutton, created this system by integrating the best attributes of geometry, electronic signal management, energy conversion technologies, solar panels and plasma reactor technologies (powered by hydrogen). Now this company's innovative and self sustaining solar powered public infrastructure system seems to be in demand world wide.
In southeast Michigan, the mixed urban landscape that has grown up around the 100 year old automotive industry goes on for miles and miles. The oft maligned city of Detroit is literally 143 square miles of area with barely 900,000 people living there, but that is all about the change according to the Interstate Traveler Company. "Detroit has everything it needs to be a world class city again, not just the same old stuff but be the global leader in the new industrial revolution for sustainable development" reflects Jim M. Jung, CEO of the Interstate Traveler Company. As a resident of this 300 year old city Jung is reminded daily of the vitality that remains in Detroit and about the multitude of community initiatives that are making positive changes. "The property values in the city of Detroit will start to grow really fast after we get our first few miles installed. We are working to get our at-grade Solar City Traveler cleared to build on all the major surface streets in Detroit to replace the old street car system. We are also working to bring financial support to the Wayne County and Washtenaw County Aerotropolis program with the plans to start production at the Willow Run plant in Ypsilanti which is the perfect place to get started." These confident words bode well for the context of something really big that is brewing in Detroit that serves a need in common to almost everybody around the world.
"Diversity and size does matter" Sutton said with all seriousness "We could not have survived the cost of doing business without the generous support of our many Partners, and it is via these many Partners that we have direct access to hundreds of millions of dollars worth of industrial hardware and thousands upon thousands of skilled workers in every field imaginable." When Sutton founded the company he insisted on a simple inclusive policy to attract people with a positive outlook and this enabled the team to grow fast, and big. The Partners and Managers of the company now represent a collection of automotive leaders, tool and die makers, machining companies, electronics companies, injection molding companies, engineering companies and a host of more than 275 contracted Partners in place to launch production. A large number of these Partners have cut their teeth on global automotive supply chain science and led the way for just-in-time supply chain management and are daily marshaling the resources necessary to launch more than a dozen mass production facilities for their hydrogen infrastructure system.
The Chairman of the Board for the company is Detroit's Jay C. Wilber retired leader from General Motors who wrapped up is 41 years of service to GM as the Executive Director of the UAW / GM Center for Human Resources and the Co-Author of the landmark volume 'United We Stand' describing the unprecedented story of the GM – UAW Quality Partnership. "I've said to everyone I know: when this thing takes off we are looking at exponential job growth and we expect to exceed the job growth of the automotive industry." As one of Detroit's auto industry elders Wilber along with his UAW Partner Thomas L. Weekley literally wrote the book on the organized labor and automotive scene in Detroit.
In the State Capital of Lansing, Representative Bill Rogers (R-66) is on a mission to create jobs, boost tourism and stop the bleeding of jobs and the loss of entire companies from leaving Michigan. "When I was first elected, the policies in Lansing penalized Michigan companies but gave huge financial benefits to companies out side of Michigan. Now our new Governor Rick Snyder has made positive statements about moving forward to create jobs in Michigan and to support innovative entrepreneurs. We hope he will understand and support this proposal and bring an unprecedented industrial revolution to our State." Representative Rogers was the Chairman of the official State of Michigan Taskforce on the Interstate Traveler during 2009. The official Taskforce Report was published on January 15th 2010, almost a year ago. "It's time to bring this project off from the drawing board into our factories. We need the jobs, and quite frankly, we need these guys to pay taxes, our State is broke and we need the revenue" Rogers continued "there are many reasons why this system was unanimously supported by the House and Senate in 2003. It's been almost eight years and its time to get this thing moving." As the chair of the Taskforce, Rogers has walked the bi-partisan line and knows that all the newly elected legislators want to hit the ground running. Rogers went on to explain that the Interstate Traveler project is the perfect example of innovation, entrepreneurship and dedication to creating jobs in Michigan and wonders why he hears other political leaders talk about innovation but then ignore great opportunities like this one. "We need to stop talking and start doing" he said.
According to the official testimony submitted to the Michigan Legislative Bi-Partisan Task Force Report of 2009, Michigan State University Professor of Economic History Dr. James R. Anderson said "The Interstate Traveler Provides a brilliant and desperately needed answer to a long list of questions." While most of Dr. Anderson's testimony reflects on the historic context of how America was built upon the rail roads and how they were largely funded by public private partnerships, he makes very pointed statements about the duty to act in the body of his testimony (attached).
The Chief Communications Officer Jim Griffin has been swamped with communications requests from nearly a dozen countries in the last year. "We are cutting our foundation stones very carefully" said Griffin "People get very excited when they realize the collective benefits of our system. The minute they realize this is far more than just a high speed rail system we end up in a five hour conversation." Griffin continued. "What we everyone wants is a better way of getting around our beautiful country that is fast, clean, quiet, safe and above all sustainable. We have built into this system a whole new way for our world to grow that combines the old fashioned heavy industrial model that exists all around the world with the new clean and green model that the world needs to sustain our growing populations and rebuild our cities."
Few good things have been said about Detroit in a long time, and ten years ago who would have thought the Motor City would have the potential of redirecting abandoned factories to build a solar powered high speed rail system? Will we see container ships full of rail components made in Detroit being shipped all over the world? America needs a new sustainable industrial model, and sources within the company have talked about dozens of international trade delegations that have already taken place. Maybe America has a way out of this recession after all.
http://www.interstatetraveler.us
###