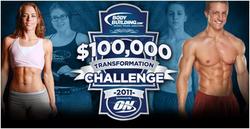 "We set out to create the biggest transformation challenge anyone has ever heard of – no strings attached. I must say, we have done just that. If this doesn't motivate you, I don't know what will." -Ryan DeLuca, Bodybuildng.com CEO
Meridian, ID (PRWEB) January 4, 2011
Bodybuilding.com, the Internet's most-visited bodybuilding and fitness site and largest online retailer of nutritional supplements, and Optimum Nutrition, (ON), recognized as one of the world's most trusted performance nutrition brands for 25 years, have teamed up to bring their biggest transformation challenge yet with $100,000 in cash and prizes up for grabs.
Not only do individuals have a chance to win over $100,000 in cash and prizes, but everyone is provided with a free custom nutrition, training and motivational guide led by industry experts Kris Gethin and Jamie Eason. Weekly personal emails provide entrants with exclusive deals and words of advice from top ON athletes. This interactive, revolutionary approach ensures every 2011 transformation can be a long-lasting success.
Individuals have until January 31, 2011 to register for the $100,000 Transformation Challenge. Upon registration, their official twelve week transformation begins. On May 6, 2011 two grand prize winners and ten runners up will be decided on based on the following factors: biggest physical and mental improvement and most inspirational and helpful to others.
The $100,000 Transformation Challenge will award each grand prize winner (male and female) $25,000 cash, a $1,200 Bodybuilding.com gift certificate, a one year gym membership, an all-expense paid trip to the Bodybuilding.com Fitness Expo, a personal training session with an ON fitness celebrity and a professional photo shoot with ON athletes. Ten runners up will receive $2,500 in cash, a $350 Bodybuilding.com gift certificate and a one-year gym membership. In addition, one person will be chosen randomly each week to be the "Contestant of the Week" and will receive $250 worth of supplements and prizes.
"We set out to create the biggest transformation challenge anyone has ever heard of – no strings attached. Not only that, it was our goal to equip everyone with the tools needed to truly be a success. I must say, we have done just that. If this doesn't motivate you, I don't know what will," – Ryan DeLuca, Bodybuilding.com CEO.
Bodybuilding.com offers more than 12,000 health & fitness supplements and accessories to help more than 7.5 million people every month achieve their health, fitness and appearance goals, as well as over 25,000 pages of FREE information, including more than 20,000 articles and videos with new content added daily.
###