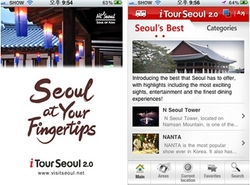 (PRWEB) January 5, 2011
Users of the i Tour Seoul 1.0 mobile application will be happy to know that its bigger and better sibling has come into town. With new features, new functions and major improvements, i Tour Seoul version 2.0 is newest way to experience the best that Seoul has to offer.
New to i Tour Seoul? i Tour Seoul is a free GPS-based mobile application from the Seoul Tourism Organization that gives Seoul travelers instant access to all the essential information they need to navigate their lives in Seoul, all on the go. This convenient application automatically identifies the user's current location and provides detailed information on the most highly recommended and popular attractions, shops, hotels, restaurants, and recreational areas nearby. Users can conduct searches on any location in Seoul and find the best public transportation route to reach any destination.
i Tour Seoul version 2.0 has all of the great features of its predecessor, but with new ones to boot. Users will love the Augmented Reality (AR) feature, a mode that shows the recommendations of the surrounding attractions based on the user's current position in a mini-virtual reality landscape (iPhone 3GS or later). Other new features include Seoul's Best, a listing of the most interesting sights, activities and best restaurants, Categories, a directory of restaurants, accommodations, attractions and tourist information facilities in Seoul that can be easily found by selecting a category, and Top 10 Regions, a breakdown of the top ten most popular tourist areas with recommendations provided. Best of all, i Tour Seoul version 2.0 was designed with built-in content in order to reduce telecommunication costs for the user. Now users can obtain all of their travel information without having to access a network connection (except for special features like maps and driving directions.)
i Tour Seoul version 2.0 has new improvements to boast about as well. Instead of having to switch between different language versions, the language of the application can now be easily changed via the top menu, and names are displayed in both Korean and English. Other new options include an improved user menu and changing the application background color to either red or blue to suit your tastes. At the moment i Tour Seoul version 2.0 is only available for iPhones in Korean and English, but Japanese and Chinese language versions will be developed in the near future, as well as for use in Android phones.
iPhones with the i Tour Seoul application already installed are available for rent in several places throughout Seoul. It can be rented from the SHOW Global Roaming Centers located at Incheon International Airport (between Gates 6 and 7, and Gates 10 and 11), Gimpo International Airport (Gate 1) and City Airport, Logis & Travel (Korea City Air Terminal) (2nd Floor, Airport Limousine Bus Station). They can also be found at the business centers located within the Seoul Lotte Hotel in Myeongdong and the Millenium Seoul Hilton Hotel in Namsan.
To download the application, go to the App Store on your iPhone and search for i Tour Seoul, or go to http://itunes.apple.com/en/app/i-tour-seoul-2/id405436072?mt=8
###