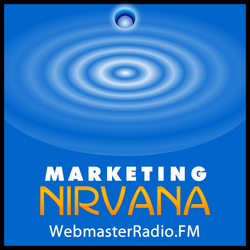 to help listeners be driven closer to finding their own personal 'marketing nirvana'
Fort Lauderdale, FL (PRWEB) January 4, 2011
WebmasterRadio.FM, the premier free, 24/7 Internet business radio network focused on the B2B marketplace introduces a new monthly radio series that rings individuals involved in online marketing that boasts "to help listeners be driven closer to finding their own personal 'marketing nirvana'".
"The show will focus on all types of internet marketing information, with a bent towards PPC," said Geddes. "We'll investigate various ways on which your marketing efforts can reach the state of nirvana."
Brad is the author of Advanced Google AdWords, the most advanced book ever written about AdWords. Brad is one of the first Google Advertising Professionals and Microsoft adExcellence members. He was the first advanced AdWords Seminar Leader and works directly with Google to conduct AdWords seminars. He has written extensively about internet marketing for more than a decade.
On the premiere episode, Brad welcomes Rob Lenderman, one of the co-founders of BoostCTR and Ryan Healy, BoostCTR's Director of Writer Development to discuss ad copy writing and how they examine their work via a method of crowdsourcing. Show notes on the radio series as well as reference items can be viewed at http://certifiedknowledge.org/groups/marketing-nirvana-radio-show/. The episode is now available on its WebmasterRadio.FM show page (http://www.webmasterradio.fm/marketing-nirvana)
Listeners are able to interact with their questions and comments to the host and guests for each interview, as well as all live WebmasterRadio.FM programming, by:

"Marketing Nirvana" airs every first Monday at Noon Eastern / 9am Pacific on http://www.WebmasterRadio.FM. Episodes are archived on WebmasterRadio.FM, as well as on iTunes and other premier podcast portals.
About WebmasterRadio.FM
WebmasterRadio.FM lifts the "veiled curtain" of the Internet, bringing the business community together through an interactive radio network. Its listeners are a global group, comprised of everyone from corporate executives and decision makers to small and mid-sized businesses and individual entrepreneurs. WebmasterRadio.FM's stellar line-up of radio programming includes "CoverStory" with Meg Walker Robinson of PRWeb, WebmasterRadio.FM's official newswire; "Market Edge" with W2/Racepoint Group Chairman Larry Weber and "SEM Synergy" with Search Engine Marketing Industry Leader Bruce Clay. To tune into WebmasterRadio.FM's live content or check out the show lineup, please visit http://www.WebmasterRadio.FM.
Media Contact:
Brandy Shapiro-Babin
954-309-5578
# # #