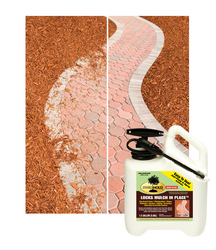 EnviroHold bonds and stabilizes ground cover, even on steep slopes, keeping mulch from blowing or washing into pools, onto sidewalks or driveways, or into surrounding areas
Naples, FL (PRWEB) January 5, 2011
For landscaping professionals, any product that cuts down on routine, repetitive maintenance chores can save both time and money. If the product also offers better-looking, longer-lasting results, it is even more valuable.
That's why a new landscaping product, EnviroHold™, is proving to be overwhelmingly popular with landscaping professionals. This innovative new product solves the vexing problem of how to keep decorative mulch in place, even on steep slopes or areas where erosion is a constant challenge.
EnviroHold is an environmentally safe, non-toxic water-based adhesive that is sprayed onto ground cover materials, offering long-lasting protection against rain, wind, erosion, blowers and mowers. The exclusive EnviroHold formula locks mulch in place, eliminating the need for constant clean-up and remulching.
"EnviroHold bonds and stabilizes ground cover, even on steep slopes, keeping mulch from blowing or washing into pools, onto sidewalks or driveways, or into surrounding areas," explained Michael Hoggatt, president of EnviroHold Inc., and inventor of the breakthrough product. "At the same time, though, it still allows water and nutrients to flow through to the vegetation."
EnviroHold is suitable for use on all types of ground cover materials including wood chips, pine straw, pebbles, gravel, sand and dirt, offering ideal dust and erosion control in all types of applications including residential developments, shopping areas, industrial parks, golf courses, highway landscapes, and school and municipal facilities.
"In addition to preventing washouts and erosion, the EnviroHold formula also includes polishers and brighteners that help enhance the mulch material's natural color," he said. "It even includes UV inhibitors to aid in color retention."
The result is longer lasting, better-looking ground cover, with less repetitive maintenance and lower long-term cost, he noted.
The easy-to-use EnviroHold concentrate can be mixed to the desired strength and applied with either pump-type or higher volume sprayers. Once applied it starts bonding immediately, and reaches its maximum bonding strength in 48 hours.
"Not only is EnviroHold quick and easy to apply, it is also economical and long-lasting, and completely non-toxic to animals and plants," added Hoggatt.
EnviroHold is sold in concentrate form to professional landscapers in 55-gallon drums, as well as in larger sizes including 110, 220, 275 and 330 gallons. Tanker truck volumes are also available.
For additional information including technical specifications, contact Michael Hoggatt at 1-888-421-4214, or visit the company's Web site at http://www.enviroholdusa.com.
###