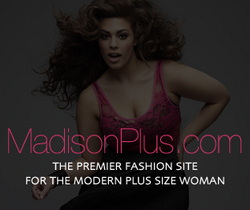 "Presented with the same gloss of fashion magazines, Madisonplus.com has created a shopping & styling community dedicated to the plus women of today." -Aimee Cheshire, Co-Founder and Co-Owner, Madison Plus
New York, NY (PRWEB) January 5, 2011
MadisonPlus.com officially launches their new website that will be the premiere destination for fashion forward full figured women everywhere. The site will be one of the first to showcase the market in a fresh and modern approach, host an E-commerce fashion mall, and feature links to over hundreds of e-tailers, retailers, and thousands of products. Stylish and affordable - Madison Plus will serve as the platform for trend features and editorial picks, lifestyle finds, celebrity interviews and designer highlights.
Founders Aimee Cheshire and Erica Young bring a whole new concept to the internet and the plus size world with high fashion at their fingertips. They have created an online arena for plus girls that want to be on the brink of fashion and rock the latest runway looks but can never find anything in her size. Aimee Cheshire and Erica Young took this challenge to the next level when creating MadisonPlus.com and examined the plus market's fashion challenge - "What can I wear to keep up with the latest trends and have the same options as a size 2."
Statistics show that the average U.S. woman wears a size 14 with an estimated 56 percent of American women wearing plus sizes, yet the lack of attention to the market stunned the founders of Madison Plus. Cheshire and Young are determined to inspire their readers daily by using plus models for their clothing features and daily updates of new looks for their online readers to mix and match. They will also offer advice on balancing proportions and embracing a woman's curves.
MadisonPlus.com features style guides as well as beauty, fashion, and lifestyle content from over 110 companies. The Dish is the official Madison Plus blog that features news and reports on plus size experts, models and fashion cohesive with the current trends in the fashion industry.
Please visit madisonplus.com. Madison Plus, Your Style Discovered! For further information or to schedule an interview with the brand spokesperson Aimee Cheshire or Erica Young please contact gwen(at)wunderlichinc(dot)com, 718-612-3990 or Jacqueline(at)wunderlichinc(dot)com.
# # #