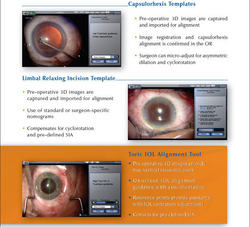 This groundbreaking innovation is the first of its kind representing a new generation of computer guidance tools for interactive surgery
Santa Barbara, CA (PRWEB) January 5, 2011
TrueVision® Systems, Inc. today announced it received 510(k) clearance from the U.S. Food and Drug Administration (FDA) to market the TrueVision® 3D Visualization and Guidance System.
The new system combines the current TrueVision® 3D Visualization System running TrueWare™ 3D Imaging OS with new proprietary software tools; the TrueVision® Refractive Cataract Toolset™. Computer-aided surgical guidance is provided to the surgeon during specific procedures such as corneal limbal relaxing incisions (LRI) to correct astigmatism, capsulorhexis, and toric intraocular lens (IOL) positioning. Pre-operative and post-operative 3D image capture is also enabled using the new TrueVision® platform in conjunction with slit-lamp biomicroscopes in the clinical setting for surgical planning.
Launched in 2008, the TrueVision® 3D Visualization System is a stereoscopic 3D high-definition visualization system that displays the surgical field of view in real-time on a 3D flat-panel display in the operating room. This allows the surgeon to operate in a "heads up" manner by looking at a large screen rather than through the traditional microscope oculars, providing better ergonomics and a more immersive visualization experience for the surgeon. The system is also used to record 3D surgical video for educational purposes and presenting on-demand and streaming 3D surgical video content at medical meetings.
"This groundbreaking innovation is the first of its kind representing a new generation of computer guidance tools for interactive surgery," said Forrest Fleming, chief executive officer. "We are very encouraged by what our initial clinical studies have shown using on-screen guidance for several important aspects of refractive cataract surgery."
"The Refractive Cataract Toolset™ enables more precise surgery," said Mark Packer, MD, FACS, CPI, a clinical associate professor at Oregon Health & Science University. "By using virtual guidance on the 3D live image, I can custom tailor a capsulorhexis and limbal relaxing incision to the patient's eye. The toolset software places virtual landmarks on the live surgical view that show appropriate incision arcs that appear on the limbus for correcting astigmatism. For the first time, I can accurately guide my surgery based on the pre-operative data. I don't have to worry about ink marks because the guidance templates show precise axis, alignment and centration."
About TrueVision® 3D Surgical
TrueVision® 3D Surgical is the leader in digital 3D visualization and guidance for microsurgery. Based in Santa Barbara, California, TrueVision® has developed and patented an intelligent, real-time, 3D surgical visualization and computer-aided guidance platform. The company is focused on developing a suite of 3D guidance applications for microsurgery to improve surgical efficiencies and patient outcomes. The first application is the TrueVision® Refractive Cataract Toolset™. Visit http://www.truevisionsys.com for more information.
CONTACT:
Robert Reali
TrueVision 3D Surgical, Inc.
+1.805.963.9700
###