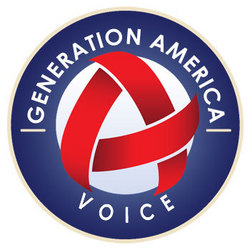 The goal of Project 21-12 is to remind these Senators of the clear message that the American people sent Washington during the 2010 elections.
Austin, TX (PRWEB) January 5, 2011
Generation America, the conservative alternative to the AARP, today announced a new initiative dubbed "Project 21-12" to engage the 21 Democratic Senators who are scheduled to run for re-election in 2012 to support of the repeal the Patient Protection Affordable Care Act — or ObamaCare. Each of the Senators, except Joe Manchin of West Virginia, voted to enact ObamaCare.
The launch of Project 21-12 and its website at http://www.project2112.org comes as a new Rasmussen Reports national telephone survey finds that 52 percent of likely U.S. voters think it is at least somewhat likely that the health care plan will be repealed. Just 33 percent view repeal as unlikely.
Generation America and its advocacy group, Generation America Voice, have already reached out to the 21 Senators with an introductory letter containing a pledge to support bringing repeal to ObamaCare to the floor of the Senate and to vote FOR the repeal of ObamaCare.
"The goal of Project 21-12 is to remind these Senators of the clear message that the American people sent Washington during the 2010 elections," said businessman Mike Young, the founder of Generation America. "Americans reject Obamacare by overwhelming and growing majorities because it was shoved down our throats with none of the transparency Mr. Obama promised, using the kind of partisan politics he assured us he would set aside. Worst of all, ObamaCare won't work, and we are calling on the 21 senators who helped pass this unwise legislation to help repeal it."
Some of the objectionable implications of ObamaCare include:

More taxes, in fact $500 billion in new taxes
More government control, starting with 150 new boards and commissions
Rationed healthcare, such as the FDA's recent ruling disallowing the use of a costly late-stage breast cancer drug called Avastin because it doesn't provide a "sufficient benefit"
Less control of end-of life decisions with the resurrection of the "death panels"
Generation America is the conservative alternative to AARP for people 50 years and older. Our organization is grounded in the principles upon which our Great Nation was founded—such as limited government, free enterprise solutions and personal freedom. We offer our members Conservative Advocacy as well as exceptional Benefits and Services.
To effectively advocate for our members and provide them a unified voice in Washington DC, we created Generation America Voice, a non-profit (c)(4) organization. We keep our members informed on the issues that concern them the most. Additionally, our Generation America members can get involved in the development of our grassroots efforts and long-term initiatives. For more information about our plans, visit us at Generation America Voice http://www.GenAVoice.org.
For more information about Project 21-12sm and our simple plan to Repeal ObamaCare, visit http://www.Project2112.org.
###