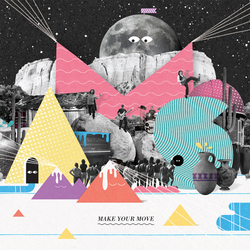 There is a side of Autism that is a gift. Each member of this special group has tapped into their special gift and it serves as an inspiration to others that they too may have a little genius in them that wants to get out.
Los Angeles, CA (PRWEB) January 6, 2011
Arrest My Sister, the latest sensation to rock the LA music scene, is performing live at New York's legendary Carnegie Hall Monday, January 10, 2011 for The Genius of Autism Celebration, a first-of-its-kind event celebrating young adults who live with autism and demonstrate exceptional ability. AMS will perform "The Night is on Fire" from their newly released, debut album "Make Your Move."
AMS gifted front man Scott Siegel is one of thirteen artists to be honored for his "genius within" at the event hosted by Broadway and Film star Laura Linney.
"I'm pretty blown away that I was actually chosen," Siegel said. "They selected just 13 people from around the world. I feel very honored to be one of them performing at Carnegie Hall. I thought at some point in my life I would perform at a place like this but I never imagined it would happen so quickly. This opportunity really shows how hard we've worked as a band."
As AMS lead singer and keyboardist, Siegel has quickly developed local renown for using his four octave vocal range to crank out 16-second falsetto notes at concerts throughout LA. In little more than a year, Siegel has led his band through more than 60 performances in more than 30 venues. The singer has written more than 300 original songs. Yet, Siegel and his band truly stand out for their commitment to celebrate diversity through their partnership with Diversity Dances. Through Diversity Dances, AMS works with organizations like the Global Autism Project to use music as a vehicle for uniting people with disabilities and people without disabilities for the of promotion 'inclusion.' The Global Autism Project is a non-profit beneficiary of the Genius of Autism Celebration, which is presented by the McCarton Foundation.
"When we saw Scott, we saw this amazing talented artist who happened to have autism," Global Autsim Project Founder/CEO Molly Ola Pinney said. "For us it was about meeting Scott, seeing this incredible musician and just seeing the potential that people with autism can have, that all people can have. We are an organization that firmly believes in promoting awareness of autism to the end of the inclusion of people with autism and other developmental disabilities. And certainly, one of the best ways to do that is to celebrate people who are affected by autism and their unique skills and talents."
In addition to performances from the honorees, the Genius of Autism Celebration will also host a chorus of Broadway performers, the Dance Theatre of Harlem, Jazz for Young People, Dre.Dance and more.
"We are honored to be chosen as one of the very talented members of a group that represents the Genius of Autism," AMS band manager Michael Siegel said. "Scott being named a first-ever recipient of this honor is consistent with our style and our desire to let the world know that all people have the potential to excel and make a difference. There is a side of Autism that is a gift. Each member of this special group has tapped into their special gift and it serves as an inspiration to others that they too may have a little genius in them that wants to get out."
About Arrest My Sister:
Arrest My Sister takes live music to new frontiers with its bold and eclectic mix of music styles. AMS music is a melting pot of legendary influences from fifty years of rock and roll combined with today's flavor and the beat of the "kick." Lead singer/songwriter Scott Siegel is fearless as he takes fans through a twisted time-warp; fusing rock with reggae, pop with folk and psychedelic with symphony all while weaving classic influences with cutting-edge innovation into his music. Sparks fly and fans rock as the lightning-fast fingers of lead guitarist Crazy Tomes flash through scales, licks and riffs that hint of Chuck Berry and Jimi Hendrix. Bass guitarist Wadada Khufu keeps Crazy Tomes in hot pursuit as he plays the resonating beats of bass like a lead. The drums and cymbals of Jon McCracken set the pulse to this eclectic fusion with superior execution, framing the band's rhythm tight and crisp. The music of AMS captures the magic of yesteryear, yet composes unique tunes that takes listeners beyond current music fads and trends.
For more information about Arrest My Sister please visit http://www.arrestmysister.com.
For more information about the Genius of Autism Celebration please visit http://www.mccartonfoundation.org.
Media contact:
Michael Siegel
Arrest My Sister
949-606-2013
###