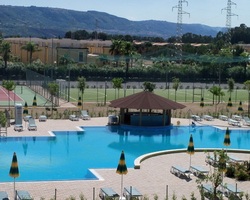 Southern Italy, Calabria, Italy (PRWEB) January 7, 2011
Want to see a long-term dream of owning an overseas vacation home being fulfilled? Here's the chance: House Hunters International has released an excellent video that tells the story of Fran, Fiorina and their three children – Beverly, Wesley and Francis- who not only dreamt of but realized their dream of owning a beachside vacation home in warm and sunny Calabria in the Southern Italian Riviera. The story is interesting because their hunt for this property in Italy is so typical: big wish lists, tight budget and limited time in which to make a decision. That they were not only able to make an informed decision but also move in to their lovely vacation home at the multiple award-winning Pizzo Beach Club I within a month of their purchase speaks volumes about this development and the parties involved in helping the Mahon family make their choice.
Fran, a drummer in the Irish Army and his wife of 22 years Fiorina, had always wanted to own a sunny beachside vacation home where their entire family of five could have a gala time. With Fiorina's Italian connection- her father was from Naples- they had a natural fascination for the southern coast of Italy. The couple were finally drawn to the beautiful coastal area of Calabria by a newspaper article that highlighted the wonders of owning a property in Calabria: lovely beaches, excellent, value-for-money properties, fantastic weather, great people and culture. So they found a real estate agent and developer-VFI Overseas Property to help them find their own place in this rapidly developing part of Italy.
The Mahon family had a big wish list: a property large enough to comfortably accommodate their family of 5, preferably with separate rooms for their grown-up children; great views and proximity to the beach. All of this within a budget of less than US$250,000- which was in fact at the higher end of their budget. The husband and wife along with their daughter Beverly visited Calabria to find the home that best met their requirements. They had a packed schedule of 4 days- the time they gave themselves to identify a suitable vacation home.
The first property they visited was a 2 bedroom, 1 bathroom apartment at Pizzo Beach Club I. Located about 300 meters or so away from the beach, they were quite impressed by the apartment- the spacious master bedroom, the excellent furnishing, the large balcony and roof terrace accessible via a separate staircase. However, there were a few things that put question marks on the property: the property was priced at the higher end of their budget; there were some additional expenses that they would need to cater for such as extra wardrobe, air-conditioning and shower door.
Subsequently the couple were taken to two other two bedroom apartments. Both of these apartments had their own distinct features that appealed to the family, particularly the fact that the properties were priced in the lower band of their budget. While one of them offered a spectacular view from the balcony, the beach was a few kilometers away; on the other hand, the third apartment had an additional bathroom, but the view was unimpressive as was the size of the balcony.
Finally, it was decision time. The three family members who visited Calabria discussed the options with their sons in Ireland and arrived at a unanimous decision. They would go with the apartment at the Pizzo Beach Club! Even though it was slightly more expensive than the other properties they saw, owning a property at the Pizzo Beach Club made much more sense.
Within a month, Fran and Fiorina moved to Pizzo Beach Club and have set up their place. Even as the final touches to this project are being given, they are eagerly awaiting their sons to join them in Calabria for what they believe will be a fabulous time!
About Pizzo Beach Club
The exciting and eye-catching Pizzo Beach Club I development is located just 15 minutes away from the modern Lamezia Terme Airport, making it easily accessible to property buyers from Europe and the worldover. A casual stroll away from the unspoilt, white sandy beach and the becalming tranquillity of the Tyrrhenian Sea, Pizzo Beach Club I offers residents captivating sea views to Stromboli and the fabulous Aeolian Islands, now an UNESCO World Heritage site and the haunt of the rich and famous! The surreal natural beauty of this stretch of the Mediterranean, aptly named the Coast of the Gods, presents a heavenly backdrop for a glorious lifestyle.
About VFI Overseas Property
VFI Overseas Property (http://www.vfioverseasproperty.com) is the largest real estate developer and property agent in southern Italy. Winner of numerous international accolades for its product and service excellence - including 8 awards at the prestigious 2010 Europe & Africa Property Awards sponsored by Bloomberg, 2009 Overseas Living Magazine Award for the best 5-star development in Italy and the CNBC 2009 European Residential Property Awards - VFI Overseas Property is acknowledged as one of the most innovative and pro-active organisations in the realm of property development and investment. With a second-to-none reputation for the quality of its luxury property developments and offices in London, Dublin, Moscow, St. Petersburg, Tunis, Sweden, Ukraine and Italy, VFI is noted for its committed and highly personalized service for all investors in their native language. The company prides itself in the end-to-end service that takes a property buyer through the entire buying process including arrangement of mortgages, insurances, legal assistance and superb after-sales support.
# # #