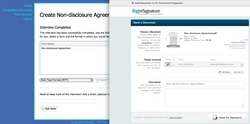 FormLizard users can now send their documents with just a click to be signed electronically using the RightSignature integration.
Deland, FL (PRWEB) January 11, 2011
Blue Burro, makers of FormLizard, the web application for completing forms, contracts and more online, today announced integration with RightSignature, the web application for getting documents signed online. The integration of these two innovative applications provides small- and medium-sized businesses and leading global companies a seamless process for online form completion, contract authoring and now, electronic signatures.
FormLizard enables businesses and their customers to complete forms, contracts and more simply by answering online questions. The application elegantly simplifies the process of completing documents -- no more printing and scanning, no more PDF files that won't save, no more guessing at what a form is asking and no more answering the same question on multiple forms. FormLizard customers simply create online interviews allowing users to answer questions online and then access their completed documents when finished.
RightSignature captures real, handwritten signatures online, replicating the feeling of the pen-and-paper signing experience in an elegant browser interface. With RightSignature, customers are able to sign online in seconds, and a high percentage of contracts are executed immediately. Parties may also create signatures on the iPad or iPhone, using the device's touchscreen as a signature pad.
"Our integration with RightSignature is a big step forward in eliminating paper from document-driven processes," said Chris Martoglio, CEO of Blue Burro. "Too many deals and too much time are lost because of the lag between finalizing documents and getting them signed. This integration eliminates that lag."
Integration with RightSignature means that getting documents signed is as easy as clicking a mouse. Documents for signing can be sent through RightSignature from within FormLizard. Users can even route the document for multiple signatures. This means no more downloading and printing of documents and no more lost time getting signatures.
"FormLizard's unique technology for turning simple online interviews into completed forms is highly complementary with RightSignature's leading e-signature application," said Daryl Bernstein, CEO of RightSignature. "This integration empowers businesses to fulfill a wide variety of custom use cases where parties need to provide information and answer questions in order to complete a form and then apply a legally-binding electronic signature."
About Blue Burro and FormLizard:
Blue Burro, maker of FormLizard, is a leading-edge web application development company enabling small- and medium-sized business and forward-thinking organizations to leverage web and cloud technology for competitive advantage. FormLizard is the best way to put paper forms, contracts and more online. Upload your existing forms, contracts and other standardized documents and turn them into online interviews. FormLizard can be used for registration forms, medical forms, multi-form packets, even complex contracts. FormLizard is offered as software-as-a-service (SAAS), is hosted in a world-class data center and incorporates HIPAA and FERPA security recommendations. Blue Burro is located in DeLand, Florida.
# # #