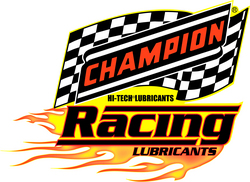 Clinton, MO (PRWEB) January 6, 2011
For more information regarding the 2011 Racing Contingency Program visit http://championsusechampion.com/contingency.html for rules and a downloadable validation form. To qualify for the contingency awards, the racer must pre-register, provide proof of purchased product, decal placement, and award verification.
Champion Brands Racing Products include multi-viscosity semi and full synthetic racing oils, break-in oil, assembly lube, gear lube, greases, and racing brake fluid. http://championsusechampion.com/index.html
About the company: Champion Brands, LLC, is a globally recognized industry leader in synthetic oil for over 55 years. Champion Brands, LLC also produces and blends over 300 products including fuel, oil, engine additives, and lubricants for the automotive, heavy truck, agricultural, industrial, and specialty markets. For more information about Champion Brands Racing & Performance Lubricants contact your nearest Champion distributor, or call Champion at 800-821-5693 or 660-885-8151.
Champion Brands, LLC
1001 Golden Drive, Clinton, MO
http://www.ChampionsUseChampion.com
###