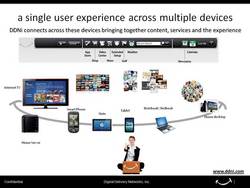 PC OEMs work hard to deliver a deep customer relationship. DDNi's local cloud helps PC OEMs retain current relationships and grow them as new devices become part of users' gateway to entertainment, social applications and information
Scotts Valley, CA (PRWEB) January 6, 2011
Digital Delivery Networks, Inc. (DDNi), a PC customer-experience company, today announced its local cloud for a unified experience across consumers' devices. The new "local cloud" builds off of DDNi's patent pending sMYline platform of which components are utilized by leading consumer PC brands.
"PC OEMs work hard to deliver a deep customer relationship. DDNi's local cloud helps PC OEMs retain current relationships and grow them as new devices become part of users' gateway to entertainment, social applications and information," said Michael Kuptz, CEO of DDNi.
The increasing number of entry points for consumers to information expands the chasm for PC OEMs to connect with their customers. In a December 2010 report, "IDC Predictions 2011: Welcome to the New Mainstream," the research firm estimates worldwide shipments of smartphones and media tablets will reach 377 million in 2011. By 2012, the number of mobile device and media tablet shipments will exceed anticipated PC shipments. IDC sees this shift potentially taking place over the next 18 months. Source: IDC.
Additionally, the number of devices which consumers "connect" with is growing. According to The Nielson Company's October 2010 research report, "The Increasingly Connected Consumer: Connected Devices," owners of Tablets have an average of six connected devices.
The DDNi sMYline is a custom branded platform for PC OEMs to improve the user software that ships with their computers. Consumers benefit from the ability to tailor their PC experience to best suit how they want to interact with their computer between the desktop, multiple devices, software, online applications, and websites. The DDNi sMYline is aligned with the primary computer's operating system and intelligently recommends software, services, support and products that are in context and appropriate to the end users' PC and device use.
Geoffrey Martin, chief marketing officer at DDNi added, "Why wouldn't I want my experience to be consistent among devices? As more devices like tablets connect in the home, PCs become the intelligent hub. By managing the local cloud, the user experiences, and the preferences, PC OEMs can create more value, and higher switching costs to another PC."
For more information about DDNi or to schedule meetings at the 2011 International CES visit http://www.ddni.com/company/contact.html
About DDNi
Digital Delivery Networks (DDNi) is a PC customer experience company that provides software, infrastructure and digital marketing opportunities to personal computer (PC) companies, distribution partners and retailers. DDNi clients sustain superior application software and internet services and enable contextual marketing during the customers' daily desktop experience. DDNi's proprietary and patented platform allows PC companies and channel partners to create and maintain an ongoing branded relationship with its customers and the opportunity to increase revenues throughout the PC's lifespan. Components of the company's patent pending sMYline platform are utilized by leading PC brands. DDNi is located in Scotts Valley, CA and is a privately held company. http://www.ddni.com and @DDNiTech
Cited research:
State of the Media: The Increasingly Connected Consumer: Connected Devices, The Nielsen Company, Copyright © 2010.
IDC Predictions 2011: Welcome to the New Mainstream, Doc. # 225878, Dec 2010.
###