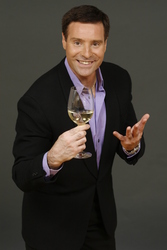 "Mastro has IT - Charisma, Charm, and a Great Personality - Love the show!" - T. R.
Los Angeles, CA (PRWEB) January 10, 2011
This Thursday, Tom Mastrianni, host of "Wine & Dine with Mastro", will be walking the red carpet at the 2011 Tasty Awards. The Show has been nominated by the Tasty Awards for the second time as they recognize the best food & fashion programs on TV, Film and on the Web.
"Wine & Dine with Mastro" is the culmination of Tom's passion for pairing great food, great drinks and great times. His mission is to show you how to put these three "Greats" together to create the Exceptional! Tom Mastrianni is an enigma... a rare combination of million dollar charm and raw magnetism. He infuses his powerful energy and incredible enthusiasm into everything, including creating his own "Mastro Scale" unique for rating wines; ranging from "Do Not Touch" to "Crazy Good". His talents become evident with his food creations that are perfectly paired with great wines, and his recent video production at the Food Festival in Atlantic City, NJ.
Join the 100 million plus television viewers and watch "Wine & Dine with Mastro" on Colours TV, AMG Network, R&R and expanding to a European audience this year. View full episodes and download free recipes at http://www.mastrotv.com
In 2006, "Wine and Dine with Mastro" became the extension of Tom's passion for wine and food and is reflected in his television show and website. Wine is a personal journey of discovery, always evolving. So he tries to move his viewers to be adventurous and expand their tour of wines and food parings. He traveled throughout Germany and France sampling regional wines as well as California's vineyards and continues to hone his connoisseur's palate and culinary skills.
###