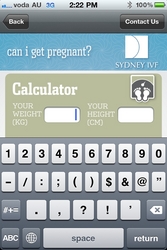 (PRWEB) January 9, 2011
Most of us have grown up with our parents waving a big red flag about how easy it is to get pregnant. However, when you consider a healthy fertile couple in their 20's having regular sex only have an approximately a 20% chance of getting pregnant, the odds are weighted rather differently.
With many women waiting until they are older to have children the chances of getting pregnant are further reduced. There doesn't need to be major reproductive conditions to affect fertility, even minor disturbances can influence the chance of getting pregnant.
At some point in our lives, 1 in every 6 couples will experience some degree of infertility and sadly, people often leave it too late to get help and advice to ensure successful conception.
Sydney IVF has launched an individualized information system, with a mobile application called "Maybe Baby". The "Maybe Baby" app can provide you with your percentage chance of getting pregnant naturally and, if necessary, with the assistance of the world leading technology of Sydney IVF.
The "Maybe Baby" app enables you to get advice and help in a discreet way.
You can download it here at the Sydney IVF Blog or direct from http://itms::itunes.apple.com:au:app:maybe-baby:id408558967?mt=8 [iTunes __title__ iTunes]
For more information on Sydney IVF visit our website, feel free to ask questions directly to our expert staff on our blogs or pick up the phone at 02 9229 6420.
For executive interviews, tours and further information for social media bloggers, online communities and e-zines please contact Fi Bendall.
###