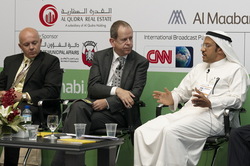 "The demand versus supply scale in the affordable housing sector has long tipped towards demand but Abu Dhabi is setting the benchmark for successful and competitive real estate by looking at the real requirements of end users."
Abu Dhabi (PRWEB) January 7, 2011
The recent commitment from Abu Dhabi government to increase availability of affordable housing will potentially compromise project viability and deliverability for the Emirate's real estate developers.
Faced with the challenge of incorporating up to 20 percent mid and low-income housing into many new residential developments, regional and international developers are having to adapt their design and development strategies to ensure they deliver quality developments that meet these new expectations, without compromising profit.
While this much-needed influx of affordable housing will ensure a strong supply of housing in for the Emirate's priority of growing its middle-income population, this new regulation leaves many questioning how the region's developers can continue to deliver these supply requirements given the high land costs and prevailing unstable operating conditions.
With 69,000 residential units expected to come onto the market by 2013, according to research by Jones Lang LaSalle, and a large percentage of that targeting the middle to high and luxury sectors, there still remains a crippling need to cater for this low to middle income bracket, offering massive potential for investors and developers to be involved.
The Middle East Real Estate Summit at Cityscape Abu Dhabi 2011 will bring together regional and international experts in affordable housing, to discuss how the region can provide this massive demand, while still retaining profit. The high profile panel of speakers, including Mubadala Real Estate and Hospitality, Global Investment House, Abraaj Capital, HSBC, Abu Dhabi Commercial Bank and more will also tackle how the advent of the Emirate's mortgage market will impact the development and financing landscape; how to get involved in the region's booming infrastructure market; as well as structuring transactions and investments to capture value in the unstable environment.
Chris Speller, group director for Cityscape Abu Dhabi, said: "The announcement from the Abu Dhabi government regarding affordable housing has helped to increase confidence among investors and created new opportunities for developers, and after what has been a very difficult few years of scarce opportunity for the market, we want to provide a platform to help increase awareness, debate and transparency of information within the sector.
"The demand versus supply scale in the affordable housing sector has long tipped towards demand but Abu Dhabi is setting the benchmark for successful and competitive real estate by looking at the real requirements of end users."
In addition, an interactive workshop on 19 April will provide delegates with strategies for investing, developing and constructing affordable housing projects in the Middle East region, while retaining critical profit margins, to be led by experts David Dudley, regional director – head of Abu Dhabi Office, and Craig Plumb, head of research, both at Jones Lang LaSalle.
Dudley commented: "Abu Dhabi Emirate continues to face a dramatic undersupply of housing for the lower and middle income segments of the market. This situation is expected to remain for the foreseeable future so it is crucial that public and private sector entities work together to accelerate delivery of housing in these segments over the short to medium term. An effective way to address this would be through a series of public-private partnerships between government, investors and developers.
"This Cityscape event is an ideal forum for the various stakeholders to come together to identify and discuss solutions. Jones Lang LaSalle is looking forward to facilitating this event."
Middle East Real Estate Summit at Cityscape Abu Dhabi is the region's leading high-level conference for the real estate investment and development sector. Taking place from 17-20 April 2011 at the Abu Dhabi National Exhibition Centre (ADNEC), Cityscape Abu Dhabi Exhibition will host over 300 exhibitors and regional and international investors looking to talk business.
Headline sponsor of Cityscape Abu Dhabi 2011 is MDC Real Estate & Hospitality Holding Company LLC and platinum sponsors are Al Qudra Real Estate LLC, Aabar Properties.
###