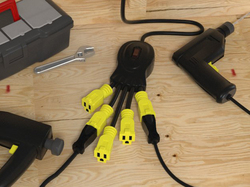 We are excited to see the PowerSquid evolve and multiply
Columbus, OH (PRWEB) January 7, 2011
Trident Design, LLC is pleased to announce three new marketing partners for their award-winning PowerSquid, The NCC (under the Stanley and Westinghouse brands), Bits Limited, and Accell, all launching product at the 2011 Consumer Electronics Show in Las Vegas. Initially licensed to Philips Electronics, PowerSquid was the winner of the 2006 CES Best of Innovations Award in Home Office, as well as Innovations Honoree in both PC Accessories and Audio Accessories. PowerSquid also won the Scientific American People's Choice Award as best innovation of 2006, as voted on by the attendees of CES. Now, PowerSquid is entering a new phase in its life as more companies license the patented design in order to add its distinctive form, and user benefits, to their product portfolios.
If you've ever struggled with a large wall-wart plug in an overcrowded power strip, then you can appreciate the design of the PowerSquid. PowerSquid eliminates this problem with a unique tentacled design, situating the outlets at the end of short extension cords protruding from a cephalopod inspired body. This not only solves the problem of lost outlets due to large plugs, it also provides much greater reach and flexibility, significantly improving the user experience. The PowerSquid comes in a variety of models, ranging from basic outlet multipliers to advanced surge protectors (from $9.95 to $79.95).
"Working with these amazing new brands should help PowerSquid reach more consumers through more channels faster, cementing its position as a mainstay in the product category," said Chris Hawker, President of Trident Design and inventor of the PowerSquid, "we are excited to see the PowerSquid evolve and multiply."
The NCC will sell the PowerSquid under the Stanley and Westinghouse brands, focused on delivering high-value solutions to the mass-market. Bits Limited, inventors of the Smart Strip and the entire category of advanced energy saving powerstrips, will focus on higher-featured models with showcasing new technologies. Accell, cable and connector leaders in the custom install market, will focus primarily on marketing PowerSquid to the CEDIA channel.
Trident Design, LLC is an industrial design and invention development company based in Columbus, Ohio. With over 30 licensed products on the market in a range of industries, Trident specializes in developing innovative, problem-solving gadgets with great design and superior branding. Trident works with companies of all sizes, from 1 person startups to major corporations. Trident's mission is to transform everyday tasks into opportunities to enjoy life.
# # #