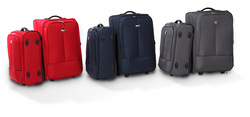 (PRWeb UK) January 7, 2011
It's the little things that count. Airline passengers may think that a discount air ticket is a bargain, but then arrive at the airport and have more money charged at every step of the journey through overweight baggage charges, preferred seating charges, on-board snacks and drinks, and more. Sometimes in the end passengers can end up paying the price of your ticket once over again in fees. And this trend is not predicted to stop anytime soon.
The American state Department of Transportation, through the Bureau of Transportation reported that the airline industry collected $906 Million in baggage fees in the third quarter of 2010. On top of that was $646 Million on other fees such as in-flight food, first class upgrades, or fees for passengers travelling with pets.
Analysts are saying that the airline industry has been slowly losing money over the past number of decades due to fuel prices and labour costs, and that the baggage charges and extra fees are a way to recoup these losses without raising fares.
However, some airline customers have found they are frustrated and confused by baggage fees. Certain airlines can charge anywhere up to $100 for an overweight bag and it is hard for passengers to know if they are over or under the limit. FlyLight Luggage UK, a UK company, is promoting a solution that is saving airline passengers money by accurately warning them if their bags are too full. The FlyLight Self-Weighing Luggage Set is a carryon bag and large case that each has a built in scale. The self-weighing luggage scale displays the total weight of the luggage on an LCD screen when the handle of the case is lifted.
Self-weighing luggage allows the traveller to pack their bags exactly full so they can take the maximum amount without worrying that they will be charged an arm and a leg if they are slightly over. Also, self-weighing suitcases offers an advantage for those who love to go on shopping-oriented trips. If passengers are planning on bringing many purchases back home, it is hard to judge how much room they will have in their suitcase. This is one of the most common situations where passengers have to pay overweight bag fees, when they have purchased something abroad that is a lot heavier than they thought. Rather than having to spend this unnecessary expense, self-weighing luggage gives users the ability to check their suitcases again once they have packed in all of the new shoes bought in Italy or the full size didgeridoo from Australia. If the case still comes in under the limit, then all is fine. If however these new souvenirs take it over the limit, passengers know in advance so that they can repack or choose to leave something behind. It is much better than having a nasty surprise at the airport check in desk and having to sort through luggage for something to leave behind while the queue waits behind, or pay the expensive fine.
Airlines are increasing the number of fees and extras that its customers are going to have to pay for. However, if by keeping keep themselves informed and travel smart, airline passengers can avoid many of these extra expenses.
Article Bio
Self weighing luggage is one way to never have to pay overweight baggage charges again. The airline companies may make a lot of money this way, but with this helpful product, it doesn't have to come from your pockets.
###