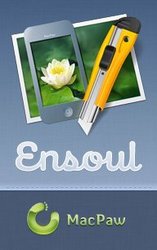 "Ensoul lets users customize their iPhone experience in an easy and fun manner, while at the same time carrying on the tradition of intuitive, easy-to-use functionality that Mac and iPhone users not only demand, but expect."
Santa Clara, CA (PRWEB) January 6, 2011
Popular Macintosh software developer, MacPaw, today released Ensoul, a Mac application that allows users to customize their iPhone experience like never before to perfectly compliment their individual needs and tastes. Moreover, Ensoul is available exclusively from Apple's newly-launched Mac App Store.
Ensoul is extremely easy-to-use and beautifully crafted, both of which are sought-after hallmarks of MacPaw products. Ensoul lets users intuitively create stunning wallpapers perfectly tailored to the iPhone (including iPhone 4) directly on their Mac desktop. By simply dragging images into Ensoul, users can edit and manipulate them as they wish, even adding fun effects that enhance beauty and character. Ensoul's tools let users crop, zoom, rotate, modify colors, add textures, and more. When finished, the user simply uses iTunes to upload their image creations directly to their iPhone.
Users can also use Ensoul to create and implement full-sized contact photos into their iPhone Address Book, providing even more individual customization capabilities to the user's iPhone experience. The larger size Address Book contact images make it much easier to manage and utilize Address Book imagery.
"We think its time iPhone users have the ability to give their favorite smartphone a little soul, and that's exactly what Ensoul provides" said MacPaw founder and CEO, Oleksandr Kosovan. "Ensoul lets users customize their iPhone experience in an easy and fun manner, while at the same time carrying on the tradition of intuitive, easy-to-use functionality that Mac and iPhone users not only demand, but expect."
Ensoul requires an Intel based Macintosh, Mac OS X 10.6.6 or greater, and 10MB of hard disk space. Ensoul is available for $14.99(USD) exclusively from Apple's Mac App Store. For complete information on Ensoul, visit http://www.macpaw.com/ensoul.
About MacPaw
Headquartered in the Ukraine's beautiful city of Kiev, MacPaw is a premier Mac-only development firm. MacPaw is dedicated to designing and creating reasonably priced Macintosh software products that are intuitive, easy-to-use, beautifully designed and implemented, and extremely useful to its worldwide customer base. MacPaw prides itself on providing exceptional products along with superior customer support. For more information on MacPaw, visit http://www.macpaw.com.
###