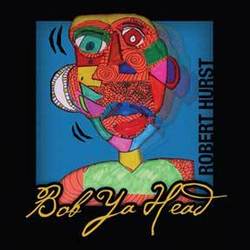 "While I love playing jazz and will always do so, I found it necessary as an artist to express my many other musical influences. I believe the one constant in jazz is 'change.'
Richmond, CA (PRWEB) January 7, 2011
For the last ten years, bassist/composer Robert Hurst's commitments and accomplishments as in-demand sideman, film composer, and university educator have left the music world anticipating new recordings from him as a leader. He delivers this month with the simultaneous release, on January 25, of two new and very different CDs on his Bebob imprint—"Bob Ya Head," an intriguing foray into world music and electronica (with Darryl "Munyungo" Jackson, Marcus Belgrave, and Karriem Riggins), and "Unrehurst Vol. 2," a 2007 all-acoustic trio date recorded at Smoke in New York City (with Robert Glasper and Chris "Daddy" Dave).
"It is so rewarding to finally be releasing this new music," says the bassist. "It's been quite a magical journey becoming the man and musician my audience has come to know. The majority of my fans identify me as a 'straight-ahead' jazz bass sideman, and while I love playing jazz and will always do so, I found it necessary as an artist to express my many other musical influences. I believe the one constant in jazz is 'change.' Each generation has broken the mold of the previous. With so much more of my music already written and even recorded, I look forward to all of my upcoming projects further addressing the notion of change and the evolution of our music."
Hurst, who in 2008 became an Associate Professor of Music with tenure at the University of Michigan, worked on "Bob Ya Head" over a two-year period while commuting between Los Angeles and relocating to his native Michigan. He describes the music on his latest release as "the culmination of my experiences while working and living in L.A," where he was based throughout the 1990s, as a founding member of the Tonight Show with Jay Leno's Tonight Show Band. Also, while becoming an active studio musician on the Los Angeles music scene, he "got into world music and heard African musicians and musicians of all ethnicities." Hurst's electric and acoustic bass playing is featured on the "Ocean's Eleven," "Twelve," and "Thirteen" soundtracks, "and a lot of that music had an electronica-type vibe. Some of it sounds really acoustic, but it's quite sampled and very high-tech."
Due to record-breaking winter storms, "Unrehurst Vol. 2" was recorded in New York without any rehearsal, but Hurst, pianist Robert Glasper, and drummer Chris Dave clicked from the moment they hit the bandstand and their empathy is evident from the adventurous performances on the new disc. Hurst describes Dave as "an underground, super funky cat." Glasper, the bassist says, "is open to all kinds of music, and he's extremely fearless. It's the gamut of total restraint to total abandon." Glasper was also featured on "Unrehurst Vol. 1" (Bebob, 2001), with drummer Damion Reid.
Robert Hurst was born in Detroit and took up bass as a young boy after seeing the Modern Jazz Quartet perform and meeting Percy Heath. Trumpeter Marcus Belgrave, a Detroit icon, was an early mentor for Hurst, who began working professionally with Belgrave at 15. After meeting drummer Jeff "Tain" Watts on a gig, Hurst was recommended by Tain to his boss, Wynton Marsalis, whose group the bassist joined after college and with whom he recorded seven albums for Columbia.
In 1989, Hurst began working with Branford Marsalis and remained for five years, again recording for Columbia. Hurst continued on with Branford to California to begin work on The Tonight Show. When Marsalis left leadership of the show's band in 1994, Hurst stayed on for another six years.
The bassist debuted on record as a leader in 1993 with "Robert Hurst Presents: Robert Hurst" (DIW/Columbia), featuring Kenny Kirkland, Branford Marsalis, Marcus Belgrave, Ralph Jones, and Jeff "Tain" Watts. Most of the music on the disc was specifically written with this exact personnel in mind. The following year, Hurst released a trio session, "One for Namesake" (DIW/Columbia), with Kirkland and Elvin Jones.
In recent years, the bassist has recorded and toured extensively with Diana Krall and Chris Botti, and continues to do so. He's maintained his long association with Jeff "Tain" Watts and will perform with the drummer's band at the Jazz Standard in New York 1/18-23 and at the Detroit Institute of the Arts 2/11 (also featuring Geri Allen).
Hurst is planning his CD release show—at Detroit's Virgil Carr Center 3/11—and is scheduling a series of spring and summer appearances across the nation. He's also preparing a fall 2011 release of "Bob: A Palindrome" (on Bebob), a sextet session with Glasper, Belgrave, Branford Marsalis, Tain Watts, and Bennie Maupin. "Branford recently told me, 'You've got to be brave to do what WE do,'" says Hurst. "I boldly agree and look forward to compiling a wealth of work which exemplifies such bravery!"
# # #