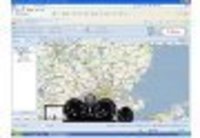 "In this day and age, you just cannot help worrying about the whereabouts and safety of your children, elderly parents or other loved ones said Finally Marketing Director, Alex Kafkarides".
Buntingford, UK (PRWEB) January 9, 2011
Spy-Tracker…Knows Where You Are. Security Software company, Finally Software announced today that they have launched a Global GPS Tracking and Location Service, under the brand name Spy-Tracker tm.
Spy-Tracker is a small & light GPS tracking device, that can be carried in the pocket, child's rucksack, or on a belt. Plus, it can easily be used for tracking any other asset such as cars, boats, bikes, luggage or laptops.
"In this day and age, you just cannot help worrying about the whereabouts and safety of your children, elderly parents or other loved ones," said Finally Marketing Director, Alex Kafkarides. "How many times have you worried when you cannot contact your children, elderly relative or other loved one, especially if they re on a trip, holiday or sleepover - and are not answering their phone.'Spy-Tracker' can tell you exactly where they, either from a PC/Laptop, or from your mobile phone."
Spy-tracker comes pre-configured with your details, including the cell-phone number you want called if the SOS button is pressed, or if your loved one leaves a safe zone that you can put around a house, street, school or town. It provides automatic location updates every 60 seconds, and has a battery life of around 5 days with normal use. As soon as you receive spy-tracker, all you need do I just switch it on - no other setting up is required - which is ideal for most families.
Pricing is £159 for the tracker and from £24.99 per month to £30.00 per month, wherever you travel in the world, and includes 20 SMS (text messages) per month to your cell phone. SMS messages are sent to your cell phone when the SOS button is pressed, when the safe zone (geo-zone) has been breached or when you send a location request from your cell phone. This is useful if you are out and want to check the location of your loved one. Spy-tracker will immediately send you back a map location link, that will show you their exact location. Additional SMS messages are £0.50 each.
"Some companies charge £1.50 for each text message, claims Kafkarides, which means that for 20 text messages, you will be charged an additional £30 per month. Others charge you for the number of times you get a location update, so you would need to limit your updates to 15 or 30 minutes to keep the cost down - which is far too long. We automatically send updates every 60 seconds, 24 hours a day - that's 1,400 location updates every 24 hours.
Spy-Tracker is a matchbox sized personal tracking device, that allows you to monitor the movements and location of your child, elderly relative or loved one, with minute by minute updates - you can watch them walking in the street or driving along - including the speed they are travelling. Anywhere in the World (GPS signal required)
You can access Spy-Tracker with any browser on PC, Laptop, PAD or suitable PDA, or you can call Spy-Tracker from any mobile phone with internet access, and it will immediately send you back a text, with a map link, and the exact location of the tracker.
Spy-Tracker also has an SOS button that when pushed, will send a message to selected mobile phones, with a link to show you exactly where you loved one is, so that you can send help. You can also put a safety ring around you child's school, grannie's house, or the sleepover location. As soon as Spy-Tracker leaves the safe zone, it will immediately send an audible alarm to your PC and also send a text, to your mobile phone telling you they have left the safe zone.
Spy-tracker also provides a number of reports that can be run either daily, weekly or monthly, and these are included in the monthly subscription. These include:

Historical Data Report
Query Data by Speed
Park Report
Running Statement
Daily Data Stat. Report
Fuel Consumption Chart
Speed Chart
All Alarm Report
Urgent Alarm Report
Mileage Report
Spy-Tracker costs about the same as a monthly mobile phone payment and is available from http://www.spy-tracker.com. You can register for free access to the demo site, a login and password will be emailed to you, by return. A simple to follow User Guide is available in the Help Section or you can email support for help.
About Finally Software
Founded in 2001, Finally Software secures the enterprise by delivering products and services that provide identification, entitlements, verification, privacy and security management capabilities. Finally Software is privately held and based in Buntingford Hertfordshire , UK, offices in the Asia Pacific region, and global coverage through their resellers and partners.
http://www.finallysoftware.com
http://www.spy-tracker.com - To log into the demo system: log-in - demo, password - demo
Email: sales (at) spy-tracker (dot) com
*GPS Signal Required
Press contacts:
Alex Kafkarides - Finally Software
Tel: +44 - (0)560-114-1253
Email: a.kafkarides at finallysoftware.com
Web:http://www.spy-tracker.com
###