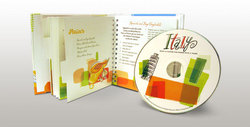 New York, NY (PRWEB) January 10, 2011
Tri-Plex Packaging Corporation was awarded both the Sliver and the Bronze in the heavily contended Promotional Packaging category of the 32nd annual competition, hosted by the New Jersey Packaging Executives Club.
Tri-Plex's entries, Hachette Audio's The Malcolm Gladwell Box Set and Somerset Entertainment's Music & Cuisine, were recognized by the judges for outstanding originality, material usage and sustainability, and production quality.
The NJPEC competition draws hundreds of packaging submissions from a cross section of industries including Health and Beauty, Fragrance, Food & Beverage, Pharmaceutical, Entertainment and Household. Each package submission and written explanation of its features are judged by a distinguished panel of packaging professionals from the industry.
As always, part of the proceeds from the awards dinner go to the various scholarships for the study of packaging that the NJPEC supports.
About
Tri-Plex Packaging Corporation:
Since 1990, Tri-Plex has been creating unique packaging that helps build brands and add value to products for some of the most recognized franchises in the world. To learn more about Tri-Plex, please contact their NY sales office @ 212-481-6070 or visit their web site @ http://www.tri-plexpkg.com.
NJPEC:
Founded in 1962, The NJPEC is an organization of packaging professionals from all disciplines in the industry, who share information and hands-on business experience. To learn more about the NJPEC, please visit their web site @ http://www.njpec.com.
###