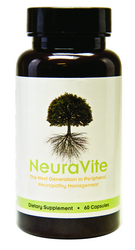 Finally, research has shown that supplements can truly improve the function of nerves. Now we can address the causes of peripheral neuropathy.
Hawthorne, CA (PRWEB) January 11, 2011
Far West Nutraceuticals is proud to announce the launch of our newest product, NeuraVite, to reduce the symptoms of peripheral neuropathy.
It is now available through our website at http://www.NeuraVite.com, as well as through participating doctors' offices.
NeuraVite is the next generation in peripheral neuropathy management. It is all natural, non habit forming and is available in easy, once daily dosing. Until now there have been few choices in the treatment of peripheral neuropathy. Regular use may even reduce the need for prescription medications and their possible unpleasant side effects.
NeuraVite is a combination of clinically proven vitamins and an essential fatty acid especially formulated for peripheral neuropathy. Research has shown these ingredients to be effective in actually improving function of damaged nerves.
This revolutionary new product is the culmination of the work of researchers, chemists and clinicians to improve the lives of the nearly 20 million Americans suffering from this devastating condition.
###