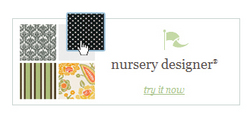 "No matter what their style or skill level, Nursery Designer® will give parents endless possibilities to make their dream nursery a reality at an affordable price."
Douglasville, GA (PRWEB) January 11, 2011
Carousel Designs, a contemporary and trend-setting leader in the baby bedding industry for more than 22 years, announces the launch of "Version 3.0" of its popular Nursery Designer®, the company's unique interactive design tool. The new version will offer expectant parents more options than ever before for designing and decorating their nursery.
Carousel Designs is the only baby bedding company that allows parents to design their own crib bedding, see it online, and choose other elements of the nursery to preview the room before making a purchase.
With the Carousel Designs Nursery Designer®, customers can mix and match fabrics and component styles, change the color of the nursery walls, choose a crib finish and pick flooring to design a virtual nursery. An expanded range of crib colors and flooring options are offered with Nursery Designer® Version 3.0, allowing for customers to experience a more accurate visualization of their nursery.
"For more than two decades, Carousel Designs has been committed to providing expectant parents with products that create a stylish and nurturing environment for their babies," said Allan Sicat, President, Carousel Designs. "No matter what their style or skill level, Nursery Designer® will give parents endless possibilities to make their dream nursery a reality at an affordable price."
Highlights of Nursery Designer® and Carousel Designs Custom Baby Bedding Collection include:
-A new feature that allows customers to visualize nursery wall and trim colors online using actual Benjamin Moore® paint colors.
-No more guesswork in matching and coordinating baby bedding. Nursery Designer® offers a blissfully simple way for anyone to begin designing their own baby bedding. If a customer has fallen in love with one particular fabric, they can start there. Pre-selected coordinating fabrics will be automatically loaded into Nursery Designer® to make the design process simple, easy and fun.
-Through the company's baby registry, friends and family can view a loved one's bedding designs to share input or to purchase items as gifts.
-Carousel Designs offers a selection of more than 300+ high quality fabrics.
-The company offers quick turnaround times with orders fulfilled in days, not weeks.
-Incredible pricing starting as low as $79 for the bumper, skirt, and comforter; and as low as $19 for a custom sheet.
-Fabric swatches can be ordered for 50 cents each, with the cost fully refunded when the order is placed.
In celebration of the Nursery Designer 3.0 launch, Carousel Designs will soon announce a Design-Your-Own-Baby Bedding (DYOBB) contest. Contest entrants will have the opportunity to use the new Nursery Designer tool, choose from the company's 300+ fabrics and design their "dream" crib bedding set. The designer with the most votes will win their "dream" baby bedding.
In addition to offering custom baby bedding, Carousel Designs offers more than 100 pre-designed crib bedding collections. These designs range from classic themes to more modern, sophisticated designs and meet a variety of individual tastes and styles. Mini/portable crib, cradle, toddler, twin and full/queen bedding is also available along with coordinating nursery décor including lighting, furniture, rugs, musical mobiles, pillows, diaper stackers, wall art, draperies, rocking chair pads and valances.
From its start as a small family business in 1988, Carousel Designs has grown to become an award-winning national online retailer and trusted brand of premium baby bedding, twin bedding and home décor. Jonathan Hartley continues the family tradition of ownership as CEO with his business partner Allan Sicat, President. The two dads of young children are both graduates of the United States Military Academy in West Point, NY and are U.S. Army veterans. Hartley and Sicat take special pride that all Carousel Designs baby bedding products are proudly made in the USA.
As they anticipated fatherhood, both Hartley and Sicat were inspired by how their wives enjoyed spending time in the design studio, playing with fabrics and creating custom bedding for their nursery. They knew if they could create the same experience online - not only the ability to design the perfect bedding but also to visualize a nursery before making a purchase - they could offer real value to their customers and more importantly, make sure that every mom gets exactly what she wants. With combined experience in technology, ecommerce, business operations and finance, Hartley and Sicat set out to make sure that Carousel Designs provided expectant moms with the absolute best experience in decorating baby's first room.
Carousel Designs products can be purchased online at http://www.babybedding.com.
About Carousel Designs
Georgia-based Carousel Designs, a contemporary and trend setting leader in the baby bedding industry was founded in 1988. For more than 22 years Carousel Designs has manufactured high quality baby bedding, toddler, twin and full/queen size bedding and nursery décor. Carousel Designs is the only baby bedding company that allows parents to design and create their own virtual nursery online with their Nursery Designer®, a unique, interactive design tool. The company also offers more than 100 pre-designed ready to ship crib bedding collections and more than 300 fabrics to choose from in a range of versatile styles. For more information visit http://www.babybedding.com.
###