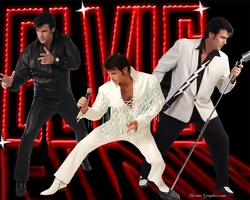 Only tribute artist hired by Elvis Presley Enterprises to perform at Graceland's Heartbreak Hotel
Jupiter, FL (PRWEB) January 11, 2011
Chris MacDonald's Memories of Elvis Rockin Birthday Bash is coming to the Maltz Jupiter Theatre January 16, 2011.
For one night only, Chris MacDonald will lovingly bring back the magic of "the King or Rock-n-roll" in a truly dynamic performance complete with costumes, back up singers, dancers and high-energy concert band. Join us for this Rockin tribute celebrating the life and music of one of the greatest entertainers and pop culture icons of our time on what would have been his 76th birthday.
33 years ago (August 16, 1977) we lost one of the greatest entertainers and pop culture icons of our time. Are you still lonesome for the energy, charisma and incredible voice of one of the most enduring icons of our pop culture? Then come celebrate the life and music of Elvis Presley, when tribute artist Chris MacDonald presents his Memories of Elvis in Concert Rockin Birthday Bash Friday, January 8th at the Coral Springs Center for the Arts. Elvis Presley, recognized by TIME magazine as the "Artist of the Century," has sold more records than any other artist or group in the history of modern music. Even after death, his image and music continue to be loved and celebrated throughout the world. July 5, 2004 was established as the official 50th Birthday of Rock-n-roll commemorating Sun Records release of Elvis Presley's song "That's all right Mama". With recent number ones on Billboard and Great Britain's charts, Elvis once again proves he is gone, but not forgotten. Keeping the memory alive at countless venues throughout the country Chris MacDonald lovingly brings back the magic of the "King of Rock-n-Roll" with his tribute Memories of Elvis.
Chris's show is not an overdone impersonation. It is a natural heartfelt tribute to the King of Rock-n-roll. Adding to the authenticity of his tribute, Chris has the honor of being the only tribute artist hired by Elvis Presley Enterprises to perform at Graceland's Heartbreak Hotel for 7 consecutive years. An energetic and experienced entertainer, MacDonald has also starred in the famous LEGENDS IN CONCERT stage productions in such cities as Branson, MO, and Las Vegas, NV. He has also performed in Concert with Elvis Presley's original back up group The Jordanaires and D.J. Fontana at the Seminole Hard Rock Hotel and Casino. Not only is the charismatic MacDonald superb in performing as Elvis, this versatile performer has an extensive repertoire spanning from the 50's through today including contemporary country music tunes in addition to some of his own original music. MacDonald's solid vocals have also earned him Broward County's Florida Country Music Association's (FCMA) Male Vocalist of the Year award and a feature track on The Deuces Wild compilation CD which received the FCMA Best CD of the Year award. Chris has a new original country CD recorded in Nashville entitled No Misconception. All songs on the CD were recorded with harmony vocals provided by the legendary Jordanaires. The songs are available for digital downloads on itunes.com or his website http://www.chriselvis.com.
For one night only, MacDonald will bring back an All-American Legend in a truly dynamic multi-media performance complete with costumes, back up singer's dancers and high-energy concert band. Join us for this Rockin tribute celebrating the life and music of one of the greatest entertainers and pop culture icons of our time.
For tickets call the box office at 561-575-2223 or online at http://www.jupitertheatre.org
Maltz Jupiter Theatre.
1001 East Indiantown Road
Jupiter, Florida 33477
###