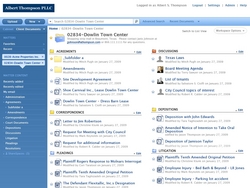 "NetDocuments underpins the firm's technology focus to enhance the client experience," said Douglas D. Caddell, CIO, Foley & Lardner.
Orem, UT (PRWEB) January 12, 2011
NetDocuments, a leading Software-as-a-Service (SaaS) content management service provider, announced today that the international law firm Foley & Lardner LLP (http://www.foley.com) has selected NetDocuments as its new document management service for its nearly 1,000 attorneys and 21 offices worldwide.
Foley was recognized in 2010 by CIO Magazine (http://www.cio.com) as one of the CIO 100 honorees, given annually to honor the top 100 companies worldwide that demonstrate strategic excellence in developing innovative information technology (IT). In fact, the firm has achieved this prestigious award seven of the past ten years. The firm also was named to the InformationWeek 500 list for five consecutive years for its client-focused technology.
NetDocuments offers global law firms, with their tens of millions of documents, a single, globally-accessible platform for its documents, emails and records, thus eliminating the capital-intensive model of maintaining client and server software, hardware, databases and other system software scattered across offices. Additionally, the NetDocuments service provides firms a very simple, yet secure way to collaborate and share with their clients.
"NetDocuments underpins the firm's technology focus to enhance the client experience," said Douglas D. Caddell, CIO, Foley & Lardner. "We are committed to adding substantive value for each client through innovative technology, such as NetDocuments, both by increasing the efficiency of our attorneys and by enhancing the overall client experience."
Caddell continues, "Our attorneys are no longer bound to a brick and mortar law building. They work at client's sites around the globe, and need to have their documents available to them anytime, anywhere. NetDocuments has not only met those requirements, but has provided a fresh, new cloud-based platform for our offices worldwide."
The NetDocuments Service has the sophistication of powerful content and discovery searching, two-factor authentication, ethical wall security, email and digital records management, and built-in business continuity with two, redundant world-class data centers required for the prestigious international law firms of today.
"It has been a pleasure working with Foley & Lardner as they have evaluated and selected NetDocuments," said Ken Duncan, CEO, NetDocuments. "Their professionalism and understanding of technology is unparalleled, confirming to us why Doug and his team are highly respected and the recipient of their many technology awards."
About NetDocuments
NetDocuments is a leading, cloud-computing content management and collaboration service. Organizations of all sizes can save tens to hundreds of thousands of dollars by eliminating the hardware, system and client software, and ongoing administration of a legacy client-server technology model. With the NetDocuments patented service simply "turned on," business professionals can immediately begin storing, managing and sharing documents throughout the world and on any Internet-connected service device. Founded in 1998 and based in Orem, Utah, NetDocuments has 80,000 users in over 128 countries. For more information about the company and management, go to http://www.netdocuments.com. Follow NetDocuments on Twitter at @netdocuments or watch the new NetDocuments user interface coming spring 2011 at http://www.netdocuments.com/start.
About Foley & Lardner
Foley & Lardner LLP continually evolves to meet the changing legal needs of our clients. In a recent survey of Fortune 1000 corporate counsel*, Foley ranked first for superior client service and value. In addition, Foley was a Top 10 firm on the U.S. News – Best Lawyers® 2010 "Best Law Firms" list, based on the total number of first-tier metropolitan rankings, and CIO magazine recognized Foley for technological innovation that enhances business value by naming the firm to its prestigious CIO-100 list. With nearly 1,000 attorneys in 21 offices and more than 60 practices, Foley is recognized for providing high-caliber business and legal insight. Our team-based approach, proprietary client service technology, and practice depth enhance client relationships while seeing clients through their most complex legal challenges.
All product and company names herein may be trademarks of their registered owners.
# # #