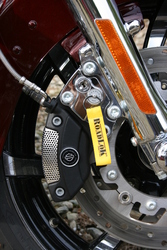 ...our dealers have the opportunity to increase profits on accessory sales and offer more innovative products for customers
Newburgh, NY (PRWEB) January 11, 2011
RoadLoK Security, manufacturer of premium motorcycle locking systems, is pleased to announce Tucker Rocky as its newest distribution partner within the United States. Tucker Rocky Distributing is a leader in the wholesale distribution of aftermarket parts, accessories and apparel for the powersports industry. Tucker Rocky stocks and sells a vast selection of items for street bikes, off-road motorcycles and ATVs, as well as all the accessories and apparel needed by the people that ride them.
THE NEWS
Beginning in Spring 2011 all Tucker Rocky retailers will be able to offer the new RoadLoK locking system to customers seeking a safer way to lock their motorcycles. This new distribution partnership will allow more dealerships access to RoadLoK Security's expanding product line that covers all major brands of motorcycles including Harley-Davidson, Victory, and all major Japanese and European manufacturers. "We are excited to bring Tucker Rocky into our select group of distributors. Our goal is to give dealerships greater access to our product line and increase product awareness domestically." said Adam Xavier, CEO of RoadLoK Security, "Tucker Rocky is clearly an industry leader in parts distribution and we are confident that this new relationship will be a great success."
The new RoadLoK System product line will be available in both the Street Metric catalog and Biker's Choice catalog. Available models will include the RoadLoK XDA for American V-Twin, the RoadLoK XRA for Metric and European sport bikes and the XGC for the Honda Goldwing. Products will be available in a variety of colors depending on the model. Katie Geer, Product Line Manager for Tucker Rocky Distribution explains, "By adding the RoadLoK System to our current line of security product offerings, our dealers have the opportunity to increase profits on accessory sales and offer more innovative products for customers in the 2011 riding season." All systems sold by Tucker Rocky will carry RoadLoK's standard lifetime warranty and key replacement services.
The RoadLoK system has been proven to increase revenue for participating dealerships in the parts, service and sales department. In addition to being sold over-the-counter in the parts department, the system is sold in the service department during routine motorcycle service and finance department as increased security for new motorcycle financing. By partnering with Tucker Rocky, more dealerships will have an opportunity to increase revenue in all departments with the RoadLoK system.
ABOUT ROADLOK SECURITY
RoadLoK Security, LLC is a New York based licensing and manufacturing company that specializes in the design and production of model-specific vehicle locking systems. The RoadLoK system is patented both domestically and internationally. The RoadLok is the only locking system that safely and effectively prevents roll away theft. The System is designed to be permanently mounted on a motorcycle, thereby eliminating the need for storing the lock while riding. The system's permanent mounting eliminates all momentum, making it virtually impossible to damage calipers and fenders; this is accomplished while also protecting the rider, should the rider forget to unlock the System before riding off.
All RoadLoK Systems are backed by a Limited Lifetime Warranty and full customer support. RoadLoK Security strives to create the best locking systems available while offering the superior customer service. Over the past five years the model range has extended from a single Suzuki Hayabusa locking system to encompass Harley-Davidson models, Victory Motorcycles, Japanese and European sport bikes. Model coverage information is available on the company website at: http://www.roadlok.com.
FOR MORE INFORMATION VISIT:
tuckerrocky.com
or email: tuckerrocky(at)tuckerrocky(dot)com
Dealer Locator: http://www.powersportrider.com
http://www.roadlok.com
or call: US: (888) ROADLOK to find an Authorized Dealer near you.
Facebook: ROADLOK®
# # #