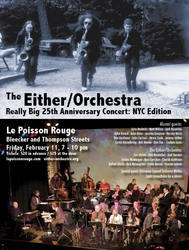 One of the most sophisticated, accomplished and dynamic large ensembles working today.
Richmond, CA (PRWEB) January 11, 2011
Before there was Medeski Martin & Wood, pianist John Medeski was on the road with the Either/Orchestra. Before he joined the bands of Dewey Redman, Lee Konitz, and Charlie Haden and led his own groups, drummer Matt Wilson spent five years with the Either/Orchestra. Before his stellar career with Lester Bowie, Don Byron, Dave Holland, and at the helm of myriad projects, trombonist Josh Roseman was a charter member of…the Either/Orchestra.
Likewise, before Jerome Deupree co-founded the rock band Morphine, Mike Rivard conceived the legendary Club D'Elf, Harvey Wirth, John Carlson, and Dan Kaufman signed on with Angelique Kidjo, the Machito Orchestra, and Nnenna Freelon—yes, they all spent years touring and recording with the Either/Orchestra.
Now these alumni and many more will join leader Russ Gershon and the ten current members of the Massachusetts-based E/O to celebrate its 25th anniversary with a show at New York's Le Poisson Rouge on February 11, from 7 to 10 pm. Tickets are $20 in advance, $25 at the door.
An added bonus will be legendary Ethiopian singer Teshome Mitiku, who began collaborating with the E/O in a headlining performance at last September's Chicago Jazz Festival. Teshome was a member of the Soul Ekos, one of the most popular band in East Africa in the 1960s, and a pioneer in bringing American styles into Ethiopian music.
For a quarter century the ten-piece E/O has been charting an idiosyncratic course through the world of jazz, Afro-Caribbean, and Ethiopian music. Founded by saxophonist/composer Gershon in 1985, and operating outside of the New York limelight ever since, the E/O has released 11 albums and a DVD, and played over 1000 concerts in North America, Europe, and Africa. Early years barnstorming the U.S. by van made them underground favorites, and ongoing collaborations with Ethiopian legends like Mulatu Astatke and Mahmoud Ahmed have earned them a place on the Ethiopian and world music scenes.
Encountering a wildly diverse array of players—some of whom will not meet until rehearsals—and musical approaches, what can the audience expect? In December, a different group of E/O alumni joined the band for a concert in Boston, and here's a detailed review. The New York show promises to be even more high-powered, given the group of alumni who are gathering and the condensed program time of three hours.
At Le Poisson Rouge, as well as revisiting older material in its original arrangements, the Orchestra will take advantage of expanded instrumentation: big-band sized horn section, multiple keyboards and basses—and DRUMMERS! This show will feature the four stellar drum-set players who have defined the phases of the E/O's music: Jerome Deupree (1985-89) brings world-class rock, funk, and jazz skills to the job; Matt Wilson (1990-1995) is one of the hardest swinging yet free and creative drummers in jazz; Harvey Wirht (1997-2004) came to the US from Suriname with a unique blend of South American and African rhythms; and Pablo Bencid (2005-present) has lived in Venezuela, Louisiana, and Boston and displays it all in his personal blend of Latin and American styles.
John Medeski—recently featured on the cover of Down Beat like Matt Wilson and another ex-E/O musician, Miguel Zenon—is one of the most powerful musicians and finest keyboard orchestrators of his generation. Medeski's huge ears, go-for-broke energy, and ability to comp differently for every soloist made him a defining member of the band from 1988 to 1990. Over the past decade he has continued to collaborate with bassist Mike Rivard (1986-89) in Rivard's Club D'Elf, a funk & Moroccan groove unit with a floating cast of characters.
The E/O's current lineup is riding the success of the band's recent release, "Mood Music for Time Travellers" (Accurate 3285), which was high on the CMJ and Jazzweek charts all fall. ("[They] take totally serious music and make it fun...The sense of groove and joy is overpowering," observed Mark Saleski, Somethingelsereviews.com. "A take-no-prisoners kind of group...another in a string of triumphant recordings, one that comes highly," recommended Michael G. Nastos, All Music Guide. "One of the most sophisticated, accomplished and dynamic large ensembles working today," wrote Gapplegatemusicreview. "Fabulous musicians, performing terrific music with great creative skill," said Bruce Lindsay, AllAboutJazz.com. "A great collection of new tunes," wrote Downbeat.com.) Some of these tunes will be featured on February 11.
The show at Le Poisson Rouge will be a special occasion, the spirited union of several generations of musicians, ranging from 20 to 56 in age, from all over the U.S. and Latin America, who collectively make up the ongoing endeavor known as the Either/Orchestra.
The Either/Orchestra: Tom Halter, Dan Rosenthal—trumpets; Joel Yennior—trombone; Hailey Niswanger, Russ Gershon, Charlie Kohlhase—reeds; Rafael Alcala—piano and keys; Rick McLaughlin—bass; Pablo Bencid—drums.
Alumni guests (confirmed as of Jan. 10): John Carlson—trumpet; Josh Roseman, Curtis Hasselbring, Dan Fox—trombones; Jeremy Udden, Henry Cook, Godwin Louis—reeds, flute; John Dirac—guitar; John Medeski, Dan Kaufman—piano, organ; Mike Rivard—bass; Jerome Deupree, Matt Wilson, Harvey Wirht—drums.
###