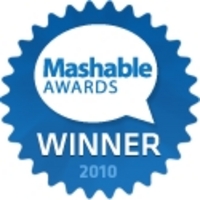 "We are extremely excited to be at the forefront of spreading the Korean wave on a global scale."
Las Vegas, NV (PRWEB) January 11, 2011
6Theory Media, LLC is pleased to announce that allkpop was presented with the "Must-Follow Brand" award last Thursday at the fourth annual Mashable Awards (formerly known as Open Web Awards), the greatly anticipated gala event held during the 2011 International CES® conference in Las Vegas, Nevada.
allkpop is a global leader in bringing the latest Korean pop (better known as "K-pop") news and gossip to English speakers worldwide. Catering to over three million monthly readers, allkpop has leveraged its robust social media presence to become the most trafficked English-based K-pop blog in the industry.
This year marks allkpop's second Mashable Award, following a win for "Best-Breaking News Site" in 2009. K-pop artists Super Junior and Jay Park also share the winner's circle this year in the "Must-Follow Personality" and "Best Web Video categories," respectively.
"It's a true honor to win such an award and it really shows the exponential growth of Korean entertainment, " responded Johnny Noh CEO of 6Theory Media. "We are extremely excited to be at the forefront of spreading the Korean wave on a global scale."
The Mashable Awards recognize the year's best of tech and the web as voted by the Mashable community who cast more than 1.3 million nominations and votes in 25 categories including "Best New Gadget", "Best Music Discovery Service" and "Must-Follow Brand," among others.
"The Mashable Community has really grown the Mashable Awards program over the past four years," said Pete Cashmore Founder & CEO of Mashable. "We are grateful to our readers who made this year's program such a success."
The digital influencer- and star-studded gala, held at the New York, New York hotel, was hosted by The Onion's Baratunde Thurston and featured performances from Cirque du Soleil's Zumanity and audio-visual entertainers Eclectic Method. Major consumer electronic innovators, including Aro Ford, BlackBerry, Influxis, LG and Yahoo, signed on to support the event.
About 6Theory Media, LLC:
6Theory Media, LLC, established in October 2007, is a pioneer in bringing Asian pop culture news to English speakers around the world, harnessing its viral influence through multiple social media platforms. Our company houses two online Asian entertainment news destinations: allkpop and tokyohive and utilizes the latest innovations in the digital space, technology and services to not only meet the needs of our sophisticated and savvy readers, but to also deliver an unrivaled experience with each visit.
About allkpop:
K-pop is one of the fastest growing global phenomena to hit the pop culture scene today, and allkpop is transcending borders and language barriers to drive the Korean music and entertainment exchange beyond Asia. allkpop works around the clock to deliver the most exclusive content, and minute-to-minute breaking news and gossip first. To learn more about allkpop, please visit allkpop.com or follow us on Twitter and Facebook.
###