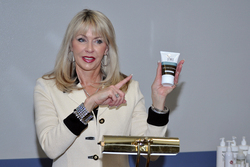 The annual Golden Globe Style Lounge held by Secret Room Events is so exciting and Glymed Plus are proud sponsors
Beverly Hills, CA (PRWEB) January 13, 2011
Christine Heathman, Master Aesthetician, CEO and Founder of GlyMed Plus and the GlyMed Plus Institute of Skin Science™ is a proud sponsor of the 2011 Golden Globe Awards Style Lounge, which will be held on Friday January 14, 2011 in Beverly Hills at the famous SLS Hotel. The time of the swag party will be from 11:00 am - 7:00 pm and is being promoted by Secret Room Events. The gifting suite will benefit the non-profit organization To Write Love On Her Arms. To Write Love On Her Arms is dedicated to finding help and encouraging those who suffer from depression, addiction, self-injury and suicide.
Christine will be featuring products from Glymed Plus at the celebrity gifting suite. GlyMed Plus® has been a renowned leader in the skin care industry, offering a complete range of Professional Only products, combining technologically advanced ingredients with certified organic botanicals to produce amazing results.
Joining Christine will be her dear friend, celebrity advisor Raffles van Exel. Christine states, "The annual Golden Globe Style Lounge held by Secret Room Events is so exciting and Glymed Plus are proud sponsors. We love sharing GlyMed Plus products with our friends, and it's amazing that the celebrity gifting suite will benefit a life saving organization." Raffles van Exel says, "Christine's products are wonderful and I look forward to introducing Christine and GlyMed Plus to my celebrity clientele."
###