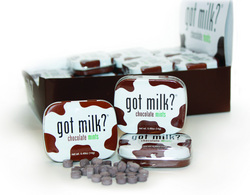 "Bridge Brands Chocolate's new got milk? chocolate mints and Landmark Tins souvenir collection fit into purses, pockets and backpacks for chocolate enjoyment throughout the day," said company CEO Mike Litton.
San Francisco, CA (PRWEB) January 14, 2011
Bridge Brands Chocolate™ http://www.bridgebrandschocolate.com, also known as The San Francisco Chocolate Factory™, is launching a new got milk? chocolate product and expanding its Landmark Tin Collection souvenir chocolate tin collection featuring graphics depicting destination cities.
The got milk? chocolate mints in ½-ounce tins bear the world-famous got milk? logo and Bridge Brands Chocolate's signature cow-spotted design. The tins stash easily in a pocket or purse, for a fresh, minty chocolate fix. They are great for after dinner, or before a big date. These hard mints will leave breath freshened and will vanquish any chocolate craving.
Bridge Brands Chocolate's got milk? chocolate mints offer a succulent chocolate hard candy with just a hint of mint. Mints ship in 24-pack fold-out display for easy counter placement to encourage impulse buying.
With Landmark Collections for New York, Boston, Washington DC, Chicago, Philadelphia, Los Angeles and Las Vegas available, Bridge Brands is proud to announce 10 new Landmark Collections. The new collections cover most major US cities, including: Houston, Dallas, New Orleans, Phoenix, Seattle, Minneapolis, Cincinnati, Pittsburgh, St. Louis, Orlando, Miami, San Jose, Alaska, and even Mount Rushmore.
The newest additions to the Bridge Brands Chocolate Landmark Collection are travelling abroad, with new collections for the Canadian cities of Vancouver, Montreal and Toronto, the City of London, England and collections for Singapore and Japan.
All of these collections will be available in handy three-tin gift sets, and make great souvenirs for locals and visitors alike. Customers love to use the empty Landmark tins to store jewelry, pens, loose change or and other knick-knacks - reminding them of their travels long after the delicious chocolate inside has been devoured. Landmark Tins are available in three-packs.
Just as with any dedicated traveler's collection of guidebooks, these collection of Landmark Chocolate Tins will be ever expanding. More cities and countries around the globe will be added soon.
Visit Booth #501
About Us
Bridge Brands Chocolate™ was created to provide chocolate lovers with gourmet-quality, superbly packaged chocolate at a non-gourmet price. Since debuting as The San Francisco Chocolate Factory in 1999, Bridge Brands Chocolate™ has become a favorite with chocolate lovers nationwide.
Why Bridge Brands?
One of the greatest bridges between two hearts is chocolate, so we've chosen Bridge Brands Chocolate™ as our new name. Chocolate is proven to be good for the heart and good for the soul--it creates a stir of passion and evokes love. Chocolate can erase a bad day or a bad deed in an instant. As we at Bridge Brands Chocolate™ like to say: Love thy neighbor, and bring them chocolate, often!
Known for our unique, custom packaged gourmet chocolates, Bridge Brands Chocolate's™ many different brands--now bridged together under one great company--offer a chocolate opportunity for everyone.
From our Tea, Coffee and Wine Lover's Chocolates, to the souvenir Landmark Collection, the kid friendly got milk? chocolate series to our easy on-the-go Chocolate by Numbers, you'll find gourmet chocolates perfect for every day and for special occasions. Give Bridge Brands Chocolate™ as a gift to each "special someone" in your life--but make sure to order some extra chocolate for yourself!
Bridge Brands Chocolate's™ sales have rapidly expanded beyond the shores of the Bay Area--thanks to the many visitors who bring the beautiful chocolate tins home as souvenirs... the chocolates are so delicious, people call desperate to order more!
Bridge Brands Chocolate™ is an active participant in the San Francisco Bay Area Community. We often provide donations of chocolate to worthy causes to help with fundraising efforts. A few of our most recent donations have gone to valuable community organizations like: City of Dreams, The UCSF Blood Center, The San Francisco Department of the Environment, The Hungry Owl Project, San Francisco Gay Pride, Support for Families with Disabilities, The Asian & Pacific Islander Wellness Center, Metropolitan Fresh Start House, The Bay Institute, The United Way, The San Francisco Sheriff's Department, and The California Film Institute.
Visit The San Francisco Chocolate Factory Boutique
The San Francisco Chocolate Factory Boutique, located in San Francisco's SOMA district, is a unique destination designed to fulfill all of your chocolate desires. The intimate atmosphere of the Boutique is a perfect backdrop for the exclusive products displayed on its shelves. The Boutique features the products made by Bridge Brands™ including our signature San Francisco Landmark tins, Wine Lover's and Coffee Lover's Collections, decadent Earthquake Cakes and their Fair Trade Certified line, GAIA Organic Chocolate, all offered at 10% off the already reasonable suggested retail prices. We also proudly offer a wide selection of scrumptious treats from the best local and international chocolatiers, including hand made toffees, truffles and specialty bars. This year The San Francisco Chocolate Factory hosted their first Holiday Marketplace with local merchants, SF Food Carts, La Cocina and part of the proceeds went to Glide. Visit the website or join us on Facebook for news about our next event.
Hours of operation: Monday -Friday 12-6:00 p.m.
Press Inquiries:
Contact:
Bridge Brands Chocolate PR
Sandra Evans
& Associates
Tel 415 887 9230
sandra(at)andassociates-ca(dot)com
Sales and Distribution Inquiries:
Contact:
Sales
Bridge Brands Chocolate
286 12th Street
San Francisco, CA 94131
Tel 415 763-4626
sales(at)sfchocolate(dot)com
http://www.bridgebrandschocolate.com
# # #