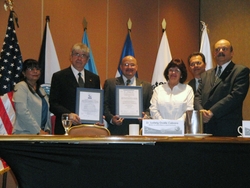 "You need to define both where you want to be and the road to get there. Now we're on the right road."
Bethesda, Maryland (PRWEB) January 18, 2011
Guatemala's Ministry of Health (MOH) is the first Central American country to receive the prestigious International Organization for Standardization (ISO) 9001: 2008 Certification for its central administrative and financial procedures. The USAID Health Care Improvement Project (HCI) provided technical assistance to the MOH during the certification process, which took two years to complete. The HCI Project is funded by the US Agency for International Development and managed by Bethesda-based University Research Co., LLC.
"You need to define both where you want to be and the road to get there. Now we're on the right road."
—Victor Castillo, Ministry of Health official
ISO created the 9001:2008 certifications as a quality management standard that applies to all types of organizations. ISO 9001:2008 helps both product and service organizations achieve standards of quality that are recognized and respected throughout the world. The Guatemalan Ministry of Health sought the accreditation to enhance its professional image, as well as to reassure patients about superior health quality standards.
The MOH certified the central administrative and financial processes within five units: budget, accounting, treasury, costs, technical assistance and training resources. To be ISO certified, the MOH rigorously trained its employees about situational analysis and documentation processes, created standardized approaches for the administrative and financial aspects of each unit, and passed an extensive corporate and financial audit. The MOH will continue to be re-certified every three years.
The Guatemalan Ministry of Health also celebrated the ISO 9001:2008 certification of the San Pedro Health Center. The certification's primary focus is on maternal & neonatal health services. Results from the certification show significant improvement in maternal care. Active management of the third stage of labor (a set of steps essential to prevent potentially life-threatening bleeding after childbirth) improved from 43% to 90%, and prenatal care increased from 68% to 88%.
Dr. Anibal Orozco, Director of the San Pedro Sacatepéquez Health Center, speaking about the significance of ISO certification, said: "Yes, there is quality. But, what is most important is that the people believe in us."
The URC team provided technical support to the San Pedro health center staff to implement maternal & neonatal health processes, standardize medicine storage and handling, training in biohazard waste management, and other norms.
To ensure the focus on quality improvement, the Guatemalan government created a new unit for Quality Assurance Management at the MOH in Guatemala this month. Two URC staff will help launch the new unit.
The MOH is planning to obtain ISO certification accreditation for an additional eight health centers– two HIV/Sexually Transmitted Infections clinics and six maternal service centers, which should earn certification by August 2011. The Roosevelt Hospital and San Juan de Dios Hospital, two central hospitals in Guatemala City, will also be earning financial and budget processes certification.
About URC
URC, which celebrates its 45th anniversary this year, is a global company dedicated to improving the quality of health care, social services, and health education worldwide. With our non-profit affiliate, the Center for Human Services (CHS), URC manages projects in over 30 countries including the United States. Based in Bethesda, Maryland, URC has about 700 employees around the world.
###