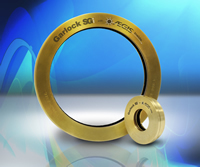 No other seal provides the SGi's level of protection against costly maintenance
Mechanic Falls, ME (PRWEB) January 15, 2011
The new Garlock SGi Shaft Grounding Bearing Isolator is the first seal of its kind to protect motor bearings from electrical damage as well as from lubricant loss and contamination. Maintenance-free, the Garlock SGi combines the proven technologies of the Garlock GUARDIAN non-sparking bronze labyrinth seal and the AEGIS shaft grounding ring in a single unit. It is ideally suited for motors controlled by variable frequency drives (VFDs) running pumps, fans, high-speed spindles, and other equipment in "severe-duty" applications such as mining and the processing of pulp/paper, food, pharmaceuticals, chemicals, and water/wastewater.
Commonly used to save energy, VFDs induce motor-shaft currents that can damage bearings, completely wiping out any energy cost savings. Standard bearing seals only keep out contamination and prevent leaks, but the Garlock SGi diverts harmful currents safely to ground, bypassing the bearings entirely and extending motor life. The patented AEGIS FiberLock Channel built into the Garlock SGi permanently secures circumferential rows of conductive microfibers, preventing their dislocation and the resulting accidental contamination of the bearing. The microfibers themselves, proven in hundreds of thousands of installations to protect bearings from harmful currents, are specially engineered for exceptional flexibility to prevent breakage and ensure that the SGi will last for the service life of the motor.
Designed for long-term total bearing protection, the SGi also provides an IP56 non-contact isolation seal that withstands dust and powerful jetting liquids. It easily replaces contact lip seals and traditional bearing isolators used in nearly every industrial application and withstands operating temperatures from –22° F to 300° F. The unit is available for motor-shaft sizes ranging from 0.875 to 6 inches in flanged, flangeless, and custom configurations.
"No other seal provides the SGi's level of protection against costly maintenance," says Earl Rogalski, Senior Product Manager for Garlock Sealing Technologies. "With it, we now offer our customers more reliable bearing protection than ever before."
"The Garlock SGi provides the most advanced technologies for protecting bearings against contamination and against damaging shaft currents — all in a single, integrated unit," observes Adam Willwerth, Sales & Marketing Manager for AEGIS Products.
Electro Static Technology (EST), inventor and manufacturer of the patented AEGIS™ Bearing Protection Ring, is a division of Illinois Tool Works, Inc., a diversified manufacturing company. EST is the global leader in conductive microfiber shaft grounding technology.
Garlock Sealing Technologies LLC, an EnPro Industries company, designs, manufactures, and sells fluid sealing products worldwide. A recognized industry leader, Garlock Sealing Technologies LLC advances fluid sealing technology by delivering innovative solutions and services for process industries' most demanding applications.
Garlock SGi is manufactured and marketed by Garlock Sealing Technologies. For more information, contact: Earl Rogalski, Senior Product Manager, Garlock Sealing Technologies, 1666 Division Street, Palmyra, NY 14522, Toll-Free: 1-800-448-6688, TEL: (315) 597-3362, FAX: (315) 597-3216, http://www.klozure.com or http://www.garlock.com.
###