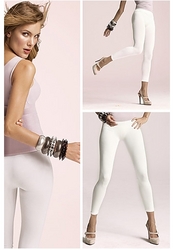 No matter your size, there's nothing a little shapewear can't do to enhance your best assets and flatter your figure.
New York, NY (PRWEB) January 20, 2011
Thanks to continuous evolution in shapewear, it has never been easier to give your derriere a lift, fight cellulite, slim your tummy, trim your waistline, and tone up flabby arms. The style experts at Classic Shapewear – the leading online retailer of the best brands of shapewear – have rounded up the best figure-flattering, bulge-banishing shaping garments for 2011.
Give Yourself A Micromassage:
Interested in a micromassage to break up unwanted fat and cellulite? Lytess's new Dream Lift Micro-Massage Leggings ($110) are embedded with all-natural cellulite-fighting ingredients to reduce the appearance of cellulite by up to 46% in just 28 days. Solidea's Silverwave Long Micromassage Anti-Cellulite Leggings ($109) are created with a patented micromassage 3D wave stretchable fabric that massages the skin to break up unwanted fats and fluids for visibly slimmer and toner tummy, hips, thighs, buttocks and legs. For those who prefer to 'sleep away cellulite,' a relatively newcomer to the market is FarmaCell's Milk Shorts ($69). The shorts are made of a revolutionary new fiber called Milk Yarn that moisturizes and softens the skin while the gently ribbed texture stimulates circulation to decrease the appearance of cellulite.
Slim Down in a Cinch(er):
Get a sexy hourglass figure with a waist cincher designed to whittle away your middle. Flakisima's new Power Cotton Waist Cincher ($54.99) will reduce your waistline by up to 4 inches instantly. Solidea Silverwave Tummy Band Waist Slimmer ($65) is a firm compression shaper that gently hugs and shapes hips and abdomen. The patented three-dimensional wave fabric actively micro-massages the skin, stimulates microcirculation and helps expel localized fat.
Wave Goodbye to Arm Jiggle:
Until recently, the options to conceal arm fat were slim. Today, there are some great options that tighten and tone flabby arms as you go about your day! Solidea Silverwave Slimming Sleeves ($95) combine a breathable, micro-massaging knit with built-in clinical grade compression that gently massages skin to improve appearance of saggy and jiggly arms and upper shoulders. Lytess's Micromassage Sleeves ($30) are designed with a specific cellulite-fighting solution, such as Copaiba, Elemi resin, Rodhysterol and moisturizing ingredients such as sweet almond, that will reduce the appearance of cellulite within 28 days.
Give Your Rear A Lift:
There's nothing like a perfect fitting pair of jeans. Unfortunately, for some women, their rears may need a little lift. We love the new Bump-a-Booty ($30), a pretty, rear-enhancing padded brief that adds lift, support, and light control in all the right places. The comfy, low-rise microfiber panty with foam pads specially-designed to sculpt and shape is so discreet it can be worn under everything from your favorite dark boot-leg jeans to a fitted cocktail dress. If you need a little extra thigh control, Dr. Rey's Shapewear Bottom Enhancer ($39.95) is the non-surgical answer. These bottom-enhancing step-in shorts with removable padding offer all the right lift and support in your derriere and thighs.
Underwear as Outerwear:
Channel the season's latest trend with figure-flattering leggings. The only thing "hip" about the Cass Shaper Leggings ($54) is the look. These chic leggings slim your thighs and legs and provide some lift and shape to your bottom. We also love the Sassybax Bottoms Up Leggings ($68) because of eight distinct support systems built-in to these fashion leggings that round the rear and smooth the thighs. The no-show-through, ready-to-wear weight makes the Sassybax fashion leggings versatile enough to wear alone or under a skirt.
No matter your size, there's nothing a little shapewear can't do to enhance your best assets and flatter your figure. Please visit http://www.ClassicShapewear.com for all of your shaping needs.
About Classic Shapewear:
Classic Shapewear is the industry's leading online shapewear retailer offering the highest quality, latest trends, and best named brands to fit and shape women of every size. Specializing in shapewear, the buyer's at Classic Shapewear are selective about which brands they carry. From the material, to design and the importance of a seamless garment, Classic Shapewear knows how shapewear should be made. For more information, please visit: http://www.classicshapewear.com.
###