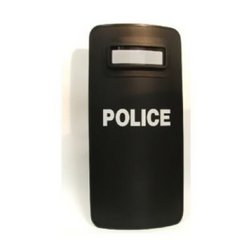 We were committed to taking the extra weight and cost of conventional materials out of existing products and replace it with innovative materials to bring tangible, life-saving value to the end users. said Patrick Redfern, CEO of LCOA Composites, Inc.
Trabuco Canyon, CA (PRWEB) January 17, 2011
LCOA Composites, Inc. is launching an extension to their product line of DeadStop™ lightweight police shields, with four new shield sizes. A NIJ Level IIIA ballistic hybrid panel with multi-hit capability can stop a 44 Magnum bullet at 15 feet. http://www.deadstopshields.com
DeadStop's™ revolutionary patent pending hybrid construction is what allows it to be the lightest in its threat level class, even with the optional viewport available on all versions. The new line of police shields includes the Dominator™, Regulator™, Enforcer™ and Transport™, ranging in weight from 6.6 lbs to 14.2 lbs, depending on size and options. There is immediate availability for all of the shield sizes but a 90 day development time frame required for shields with glass.
DeadStop™ is the latest in a series of patented products which LCOA Composites, Inc. has introduced to the ballistic and structural composite market segments and is available exclusively through their global strategic partners. The new DeadStop™ shields will be introduced in the New Product Forums at the following trade shows in 2011: Shot Show (Las Vegas), ACMA (Ft. Lauderdale) and International Association of Chief's of Police Show (Chicago).
"The street is not about even odds, our law enforcement needs the best protection available," said Patrick Redfern, CEO of LCOA Composites, Inc.
# # #