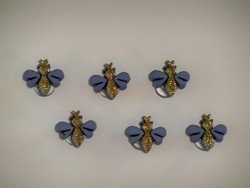 Decorative Push Pins with a touch of style.
Post Falls, ID (PRWEB) January 18, 2011
KorkysPushPins.com specializes in a variety of decorative push pins with everyone in mind. Add a unique touch of style to a home, office, dorm room, and catering event. Bring out your creative side with the many styles of push pins that we offer. In January 2011 we have added fish push pins and mardi gras mask push pins to our inventory. Guitar, cactus, nautical wheels,
Tropical flowers, and tropical fish push pins will be added in February and March 2011.
Established in 2009 by Tiffanie Lacy, Korkys Push Pins is an internet based business that offers themed decorative push pins. Korkys Push Pins are great for hanging jewelry, prize ribbons, and certificates. They can be used for home decor and bulletin boards. Some of our packages of push pins do contain magnets as part of the set. Korkys Push pins is currently running discounts from 10% to 15% off.
Summer Flip Flops, Sunglasses, and Bikini
Seashells and Sandcastles at the beach
Smiley Faces with a retro flair
Hearts that give plenty of love
Spring Daisies
Football, Soccer, Basketball, and Golf for a sports fan
Cheerleader
Gingerbread people, Christmas Stockings and bears to celebrate Christmas
Autumn Leaves
Halloween Spiders
Moose, Bears, Geese, Elk, Animal Paws, and Fish for the outdoorsman, animal lover, and fisherman
Western Cowboy Boots and Cowboy Hats
Mardi Gras Masks celebration
Wedding Doves
Snowmen, Snowflakes, and Winter Mittes for the winter festival
Cheers, Martini, Wine, and Margarita
Hairstylist Tools perfect for the beauty queen
Card players for the gambler
Celestial Moon in the sky
American Flag celebrate the USA and Armed Forces
Ribbons of Hope celebrating women and the fight against breast cancer
Racecars for the daredevil
Butterflies, Bumblebees, Ladybugs, and Fireflies
Angels for the believer
As a owner of a small business Tiffanie wanted to bring a great quality of product at a reasonable price. "The way to do this" states Tiffanie, "is to keep over head down and to date Korkys Push Pins has been very successful in doing this. We have shopped with wholesalers and vendors to obtain the best price on every thing we use for Korkys Push Pins." Tiffanie adds, "It has not been easy in this economy, however, I am proud to say that all costs are paid at the end of the month. Korkys Push Pins does not hold any debt and we hope that we can continue this process. We also know that by doing this it will take longer to grow, however, I am very happy with what we have been able to accomplish in a short amount of time. In 2009, when I started the business Korkys Push Pins had less than 10 themes. Now we have 4-5 times that amount."
Mission Statement: To offer a variety of push pins to meet everyones style with superior customer service as our goal.
# # #