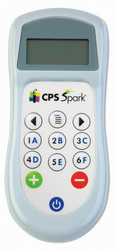 "With CPS Spark™, we're providing educators an affordable and easy-to-use student response system that engages students and generates valuable, actionable data." - Steve Kaye, eInstruction CEO
Denton, TX (PRWEB) January 18, 2011
eInstruction, the pioneer of student response system technology, today unveils CPS Spark™, a radio-frequency student response system with an easy-to-use interface that integrates seamlessly with eInstruction's ExamView® assessment software and content from more than 8,000 textbooks. Starting at $1,295 USD, CPS Spark™ provides real-time formative assessment to teachers and instant self-assessment to students through its built-in student results screen.
An analysis of research on student response systems, conducted by Interactive Educational System Design Inc., revealed that student response technology, such as eInstruction's CPS™, promotes learning when coupled with appropriate pedagogical methodologies. The same analysis also revealed that the technology can make classroom lessons more interactive, thereby raising student interest and engagement. Student response systems such as CPS™ support formative assessments that have a powerful impact on student learning, the analysis showed.
"Since we first introduced educators to student response system technology in the 1980's, we have seen how it greatly enhances the learning experience and student outcomes, and we continue to innovate to meet the needs of today's educators and students," said Steve Kaye, CEO of eInstruction. "With CPS Spark™, we're providing educators an affordable and easy-to-use student response system that engages students and generates valuable, actionable data."
CPS Spark™ is fully integrated with eInstruction's ExamView® software, which provides immediate access to assessment items from more than 8,000 textbooks, and easy delivery of assessment content aligned to state standards and Common Core State Standards. The real-time feedback generated with CPS Spark™ allows teachers to make changes to instruction immediately to ensure that students are grasping important concepts.
Each CPS Spark™ device has a simple keypad layout and color-coded, easy-to-press buttons, making it ideal for younger and special needs students.
With CPS Spark™, eInstruction is offering educators:

An affordable student response system, starting at $1,295 USD education list price.
Radio frequency/auto-join technology that supports multiple choice, yes/no and true/false questions.
An LCD screen on each CPS Spark™ device, empowering students with confirmation of answer receipt and instant feedback.
The only true integration with ExamView®-formatted assessment items, found today in more than 8,000 textbooks.
Access to the robust CPS™ software that offers many formats for easily viewing student results, including 26 different reporting options to immediately analyze what students know and where they need extra attention.
Seamless integration with eInstruction's Mobi View™, a mobile interactive whiteboard, which provides real-time reporting of student response data through its touch screen display.
"Students love the LCD Screen that told them if they got the answer correct or not right away," said Catherine Hinkson, a 5th grade teacher at Robertson Elementary in Frisco Independent School District, who piloted CPS Spark™. "I like it too, because it's still private, but they get the immediate feedback."
Pricing & Availability
CPS Spark™ is available for order today, starting at the education list price of $1,295 USD for a 24-pack, through eInstruction Authorized Resellers and Authorized Sales Agents in the U.S. and worldwide. CPS Spark™ comes in 13 languages, English, Spanish-Latin America/Mexico, French, German, Italian, Portuguese BR, Portuguese PT, Polish, Croatian Hr, Hungarian, Slovenia, Spanish EU and Czech.
About eInstruction®
eInstruction is a leading education technology company dedicated to providing interactive teaching and learning technology and services that help educators drive academic progress every day, and give administrators the ability to monitor, aggregate, and analyze student performance data. The company offers educators a family of software, student response systems, mobile interactive whiteboards, fixed interactive whiteboards, professional development and content.
eInstruction's research‐based solutions have been shown to increase student engagement and achievement while providing real‐time feedback and performance data to educators and administrators. Millions of students, teachers, and professors use eInstruction® technology in 500,000 K‐12 classrooms and more than 1,000 higher education institutions around the world. Available in more than 40 languages, eInstruction® technology is enhancing education in over 90 countries worldwide. eInstruction has offices in Denton, TX; Columbia, MD; Scottsdale, AZ; Cincinnati, OH; and Paris, France.
To learn more about eInstruction, please visit http://www.einstruction.com. For media inquiries, please contact Julie McKinney at Stanton Communications at (410) 727‐6855 or jmckinney(at)stantoncomm(dot)com.
###