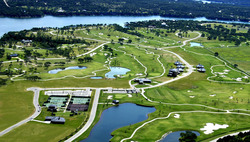 First time, one-of-a-kind privately owned tennis club now offered for sale.
Austin, TX (PRWEB) January 19, 2011
Imagine a person interested in the Austin real estate market that is a serious tennis enthusiast who also likes to cruise the lake, loves panoramic landscape views stretching for miles and enjoys listening to bands play Texas Blues in "the Live Music Capital of the World". There is also a desire for fine dining and a craving for flawless year-round weather where one can play competitive tennis on a choice of hard, clay, or grass courts. The wish list could also include a passion for luxurious shopping, a round of golf on an Arnold Palmer designed course overlooking blue waters, and the convenience of a private airport nearby. Formula 1 Racing can even be added to the wish list! Although it may sound far-fetched, all those features are possible with the private tennis oasis near Austin now on the market.
For the first time, this one-of-a-kind privately owned tennis facility is being offered for sale. Nestled in a private gated community on Lake Travis less than 25 minutes west of Austin, there are over 8 acres of Texas land included with the first class private tennis club, 8 assorted surface championship courts, and 6 adjacent lots for future expansion. Nature can be seen at its finest from the elevated deck overlooking the rolling hills sloping gently to the water's edge. An owner can host exciting fund raising tennis tournaments or perfect a professional game in the privacy of secluded surroundings. With the private nature of the gated and guarded Lakecliff community, the tennis facility can easily be utilized as a private training complex for a single tennis pro or multiple tennis pros. The tennis facility has been operated as a private club since its inception and currently has a small membership base. The current membership could be eliminated or grown to create revenue. The club also has a professionally equipped gym and full service bar that includes a food and liquor license - if serving the Honey Deuce with Grand Slam Burgers sounds appealing!
In addition to all those features, just west of the championship courts, there is an approximate 2,900 sf fully furnished luxurious tennis villa with 3 bedrooms, 3.5 baths, and 2.5 car garage. The villa is configured as one story with high ceilings and many expansive windows to capture the surrounding panoramic landscape. In addition to the Texas Hill Country views, the villa also overlooks the Arnold Palmer designed golf course and a five acre water reserve.
Read what the rest of the world has to say about Austin:
Austin Among 30 Most Dynamic Cities in the World
The Atlantic (December 1, 2010)
"There's only one American city on this list, and you shouldn't be surprised it's in Texas. Austin has benefited from a shallow recession and quick recovery throughout the Lone Star State, in addition to steady state money…"
Austin Ranked Among America's Favorite Cities
Travel + Leisure (November 2010)
"The 2010 results are in! This summer, you ranked 35 U.S. cities on their culture, shopping, restaurants, nightlife, and more. See which urban destinations fared best with visitors and residents.
Austin Ranked #1 Best City for the Next Decade
Kiplinger.com (July 2010)
"Everything may be bigger in Texas, but Austin's genius is nurturing the power of small. Just ask Rob Neville, who wants to develop his biotech firm, Savara Pharmaceuticals, into a major player in the field of inhaled-drug therapy. The firm started in Kansas, but Neville transplanted it to Austin because the city is arguably the country's best crucible for small business."
For additional property details and pricing of the unique Texas tennis training facility, please visit the website or contact Carolyn Fairris Thomas, Realtor (512) 563-7587.
Austin Events and Entertainment worth checking out:
SXSW Music and Film Festival http://sxsw.com/
Austin City Limits Music Festival http://www.aclfestival.com/
Whole Foods World Headquarters http://www.austinlinks.com/food.html
Formula 1 Racing – Coming to Austin http://www.texasoutside.com/austinguide.htm
###