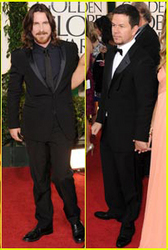 Valley Village, CA (PRWEB) January 17, 2011
The Golden Globes this year was back to basics for the men. They were expensive designer tuxedos, but similar styles can gotten at prices that rival rental tuxedos. The trend in men's formalwear seems to be back to the bow tie. The vast majority of the attendees were wearing bow ties as opposed to neckties. This gives rise to having fun with the studs and cufflinks, which they did. Here are some noteworthy looks that were picked and where and how they can be purchased at a fraction of the cost at http://www.tuxedosonline.com .
Gregory's Tux Shop the North Hollywood outlet for Tuxedosonline.com has been catering to the Hollywood clients for years and was even featured on the CBS news for doing so. Current tuxedo fashions can be found by watching the CBS video.
Christian Bale wore a black peak lapel tuxedo, black shirt, black skinny tie and black lace up shoes.
The items he wore carry a designer label but they can be gotten at a fraction of the price for smiler items to what he had on at a at tuxedosonline.com.
Mark Wahlberg Donned a two-button notch lapel tuxedo with a classic evening shirt, black bow tie and silver cuff links. These also are all items that can be found online at a fraction of the price.
Alec Baldwin Was sporting a peak lapel tuxedo, a laydown collar tuxedo shirt, a self-tie bow tie in silk and gold and onyx studs and cuff links.
###