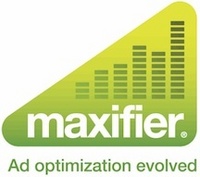 New York, NY (PRWEB) January 19, 2011
Maxifier, the campaign optimization and advertising intelligence company, has today named Jonathon Shaevitz as Chief Executive Officer. Shaevitz is responsible for the company's strategic growth and for managing its global operations, which span three continents. Maxifier's platform dramatically improves the performance of online ad campaigns and has been adopted by several leading media groups. Simultaneous with Shaevitz's appointment as CEO, current investors Eurovestech and Fieldhelm LTD completed a significant follow-on funding.
"Jonathon is a welcome addition to Maxifier's multinational management team," said Jean-Michel Petit, Director of Investments of Eurovestech. "He is experienced in leading technology ventures through rapid growth phases, and he has impressive credentials in management, business development, product strategy and marketing. Maxifier's board is so pleased with the returns so far and is so confident in Jonathon's leadership that we have injected another significant investment in the company to drive growth forward in 2011."
Shaevitz said, "Maxifier has an outstanding platform and tools to help media companies grow their businesses in meaningful and measurable ways. Recognized as a company with enormous momentum and promise, Maxifier already has some of the world's top publishers as customers, including Guardian Media Group, Channel 4 TV, Bauer Media and IPC. Nearly every publisher that's seen Maxifier's campaign optimization and advertising intelligence platform in action has become a customer and, more importantly, experienced dramatic gains in sales, renewals, and campaign performance after implementation. I look forward to leading what is clearly an outstanding management team."
Shaevitz, who successfully launched multiple technology ventures prior to joining Maxifier, brings more than 20 years of experience in developing fast growing companies. Shaevitz launched InSite Services, a leading SaaS provider to the utility industry, as well as ReCelluar, NCS, and BizTech. As a consultant for the last eight years, Shaevitz focused on helping online companies successfully monetize their businesses, including The Generations Network, ContextWeb, Univision, Evenflo, Publishing Group of America, and Rodale Publishing. He successfully developed and executed customer acquisition programs and he led the launch of new media properties. He holds an MBA from The Wharton School and a BS from the University of Michigan. He will work out of the company's New York City headquarters.
About Maxifier
Maxifier provides campaign optimization and advertising intelligence solutions to media companies, enabling them to seamlessly visualize, prioritize, optimize and maximize revenue and online ad operations. Professionals from across the media enterprise—from experts within sales to ad operations and yield management—leverage Maxifier's advanced algorithms, campaign yield management tools and real-time analytics to increase sales and renewals, expand sell thru rates, optimize campaign performance, manage global inventories, and improve operational efficiencies. With offices on three continents, Maxifier is growing rapidly and proudly serves an ever-increasing portfolio of top tier media interests. For more information on Maxifier, visit http://www.maxifier.com.
Contact
Andrew Dod
404.432.7211
adod(at)maxifier(dot)com
# # #