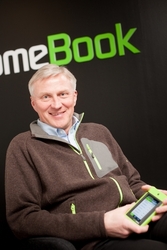 "I decided to invest in and join the board of directors of GameBook because the basic concept has already shown its value to the golf community – and, quite frankly, my personal trials just got me totally hooked." Anssi Vanjoki
Orlando, FL (PRWEB) January 18, 2011
GameBook, developer of real-time scoring system and ground breaking social technology platform for golf, today announced that Mr. Anssi Vanjoki, Executive Vice President of Nokia, has invested in the company and joined its board of directors. GameBook is backed up by a strong investor group including Veraventure, European Tour player Mikko Ilonen, Stanley Cup winner Teemu Selanne and Apple Design Award winner Elias Pietilä.
GameBook utilizes social technology to radically improve the golf experience via handheld golf scoring system that makes live statistics and real-time game information available to players while they're actually on the course. GameBook products comprise a handheld GameBook device for golf facilities and tournaments; GameBook iPhone App, available from the Apple iTunes App Store; and GameBook Clubhouse, an online community for golfers.
"I decided to invest in and join the board of directors of GameBook because the basic concept has already shown its value to the golf community – and, quite frankly, my personal trials just got me totally hooked, like almost everyone who has tried GameBook," said Anssi Vanjoki. "GameBook allows us ordinary golfers to feel like tour players on the course. The solution not only simplifies scoring and streamlines the competition experience for players, but also provides endless opportunities for golf facilities and tournaments to perfect their offering. GameBook is primed for fast commercialization, with ample potential for business expansion and further innovations."
According to the National Golf Foundation, golf is the #1 individual outdoor sport, with 27 million participants in the United States alone, the largest golf market in the world. With the recent downturn in the number of golfers, GameBook offers golf facilities, management companies and golf event organizers with a new fresh way to attract golfers.
"The GameBook system has received exceptional feedback from thousands of players who have experienced it at tournaments and international golf events," said Mr. Mikko Manerus, PGA professional and co-founder of GameBook. "While we are delighted that golf superstars such as Jack Nicklaus, Arnold Palmer and Stewart Cink have experienced the GameBook scoring system at their events, it has been equally gratifying to hear the positive comments from the countless casual golfers around the world who have adopted the GameBook iPhone App as part of their regular play".
GameBook has been developed with a team of top golf pros, including 2009 British Open champion Stewart Cink. GameBook was created with specific emphasis on usability, allowing even first-time users to experience the thrill of live tournament scoring during their round. GameBook takes the traditional golf experience to a new level by offering casual players the feel and excitement of tournament play.
With GameBook, players can connect to the entire event unfolding around them, instead of feeling like they are simply playing an isolated round. Fast, intuitive and simple to use, the GameBook iPhone App provides a live leaderboard in the palm of the hand, while GameBook Clubhouse complements the in-game experience by allowing players to follow each other's play from their iPhones or online, write comments, post photos, and much more.
NOTE: GameBook will participate in the 2011 PGA Merchandise Show in Orlando, FL, on Jan 27-29, 2011 (Booth #1717).
Press photos are available at http://www.golfgamebook.com/press
About GameBook Inc.
GameBook Inc. is the distributor of the GameBook scoring system for golf in the United States. The ultimate "value added" product for golf tournaments, GameBook offers real-time scoring and live leaderboards for all types of golf events. GameBook products include a handheld GameBook device, licensed for golf facilities and golf tournament organizers; GameBook iPhone App, available from the Apple iTunes App Store; and GameBook Clubhouse, an online community for golfers. CEO Mikko Rantanen is a former All-American golfer at Georgia Tech and a current PGA member in Finland. The GameBook advisor team also includes 2009 British Open champion Stewart Cink and European Tour winner Mikko Ilonen. GameBook Inc. is a subsidiary of Oy Free Drop Innovations Ltd, Finland.
###