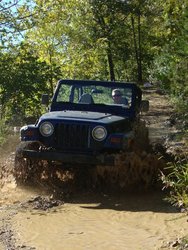 Compton, CA (PRWEB) January 19, 2011
Congratulations to Patrick Franklin, the December 2010 winner of the 4 Wheel Parts Facebook Dream Upgrade Contest. 4 Wheels Parts, America's largest supplier of aftermarket off-road parts for SUVs, trucks, and Jeeps, recently asked their Facebook fans to post photos of their vehicles, as well as their #1 upgrade wish and why they deserve to win. Patrick Franklin was chosen by random as the second winner and he received a $500 promo card to be used toward his dream upgrade.
On the 15th of each month starting in November 2010 and continuing through January, a winner will be randomly chosen and contacted. Then, the winner will be asked to write for the 4 Wheel Parts blog describing their vehicle, the upgrades, what they would do with the $500 promo card, and how it will improve their ride/life. Since the start of the contest on October 15th, 4 Wheel Parts has doubled their Facebook fans.
Patrick Franklin, who recently completed his fourth year in the United States Army and is currently a Captain, was the second of three winners of the $500 promo card contest on Facebook. Patrick was initially conflicted with the choice between purchasing a 4x4 or a convertible. Wisely, he chose a Jeep. Patrick states, "I love my Jeep because it's just fun; fun to drive, go off-roading, and fun to work on."
Patrick plans to use the $500 gift card to buy the parts he needs to install a Ford 8.8 rear axle. Patrick's Jeep is already nicely modified with a 2.5" Skyjacker lift kit, 1" body lift kit, 33x10.5 BFG A/T tires, Kilby gas tank, skid plate, 63mm throttle body, HMMWV-style snorkel, Edelbrock headers, MagnaFlow catalytic converter and muffler, and the 4.7L Stroker engine that he built.
"I have been shopping from 4 Wheel Parts since I've owned the Jeep. I bought my Bestop Supertop and Upper Door Sliders, wheels, and tires online," said Patrick. In April 2010, Patrick attended the Truck & Jeep Fest event in Puyallup, Washington held by 4 Wheel Parts. While at this Truck & Jeep Fest event, he was able to find great deals, save money, and get the parts he needed to finish his 4.7L Stroker engine.
In 2011, from February to August, 4 Wheel Parts will present Truck & Jeep Fest events across the country, now including Hawaii. Truck & Jeep Fest is a free admission event and those attending can enjoy over 100,000 square feet of custom trucks and Jeeps on display. Manufacturers will be on site with over $100,000 in inventory and product demonstrations. Attendees can expect to find some of the lowest prices of the year with factory direct pricing, hourly promotional pricing, and up to 50% off installations. Some attendees will win free stuff with hourly giveaways.
4 Wheel Parts offers competitive pricing on all transfer case upgrades, shocks, steering stabilizers, winches, tonneau covers and other off-road parts. To get more information, call 877-474-4821 or visit 4WheelParts.com. To enter the Facebook Dream Upgrade Contest for a chance to win a $500 promo card, visit the 4 Wheel Parts Facebook fan page at facebook.com/4WheelParts.
# # #