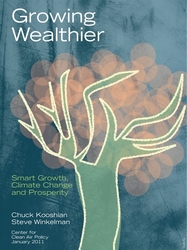 "We must take many steps to ensure that our children inherit a planet with a bright future," said Winkelman. "Investing time & money to grow communities to be more resilient, more efficient & more satisfying to their residents will offer a big payoff."
Washington, DC (PRWEB) January 19, 2011
Efficient urban planning – known as smart growth development – enhances community prosperity and generates economic benefits for local businesses, households and governments, according to a new report published today by the Center for Clean Air Policy(CCAP). The study, Growing Wealthier: Smart Growth, Climate Change and Prosperity, reveals how reduced driving and efficient land use planning are strongly interconnected with economic growth and better quality of life.
Growing Wealthier reports that pent-up demand for walkable communities is reshaping the real estate market. Cities investing in public transportation and downtown development are experiencing cost savings, growing tax revenues, increased property values and booming retail sales. The authors of the report, CCAP Transportation Analyst Chuck Kooshian and CCAP Director of Transportation Programs Steve Winkelman, encourage policy makers and practitioners to promote economic well-being by mixing land uses and providing a diversity of transportation and housing choices to enhance accessibility and promote travel efficiency.
"In our transforming economy, more and more exchanges of goods and services take place in channels unimaginable a quarter of a century ago," said Kooshian. "While transportation is still vital to economic activity, people and goods in motion are only a part of a much greater whole."
Growing Wealthier demonstrates that the rate of increase in driving and income in the U.S. has been unequal. From 1967 to 2008, household driving increased by 60 percent while average household income increased by 52 percent, but median household income increased by only 25 percent. Thus, the experience for most Americans over the last 40 years was one of driving substantially more but not sharing proportionately in income growth. The report also examines how reducing "empty miles," driving that contributes little or nothing to the economy, will help meet climate protection goals while also yielding positive economic impacts.
Communities that are realizing the economic benefits of smart growth include:
•Dallas, Texas – downtown retail sales grew 33 percent a year after the light rail system began operation.
•Sarasota, Fla. – downtown development costs were half that of suburban development while generating four times the tax revenue.
•Portland, Ore. – a $100 million investment in streetcars helped attract $3.5 billion in private investments.
•Denver, Colo. – home values within a half-mile of stations on the Southeast light rail line rose by 18 percent, while home values in the rest of Denver declined by 8 percent from 2006-2008.
Growing Wealthier documents how efficient land use planning can improve household resilience to rising oil prices by enhancing travel choices. Allowing more people to live closer to job centers can boost employment rates and income levels for low-wage workers while reducing exposure to congestion for all. Smart growth policies are also shown to cut government infrastructure costs, enhance public health and conserve natural resources.
The report provides recommendations for the federal government to "equip and empower" state and local experts to implement smart growth policies and realize their economic and livability benefits. The federal government should increase funding for research on the economic impacts of transportation and land use policies and provide technical assistance to help communities implement and evaluate smart growth and travel efficiency policies. "Do. Measure. Learn." policy programs centered on action, measurement and analysis will give practitioners room to experiment and build upon their successes. Incentive-based programs that reward economic and environmental sustainability will encourage more communities to follow suit.
"There are many steps we must take to ensure that our children inherit a planet and an economy with a bright future," said Winkelman. "Investing the time and money to grow our communities to be more resilient, more efficient and more satisfying to their residents will offer a tremendous payoff."
The executive summary and full report are available at http://www.ccap.org and at http://www.growingwealthier.info. For more information on CCAP's transportation program, please visit http://www.ccap.org/transportation.html.
The study represents a collaboration among leading urban planning researchers, including Kooshian, and Winkelman, and was made possible by generous support from the Kresge Foundation, the Rockefeller Foundation and the Surdna Foundation. CCAP is solely responsible for the content of the report.
Since 1985, CCAP has been a recognized world leader in climate and air quality policy and is the only independent think-tank working exclusively on those issues at the local, national and international levels. It is an independent non-profit organization headquartered in Washington, D.C., that helps policymakers around the world to develop, promote and implement innovative solutions to major climate, air quality and energy problems. With on-the-ground policy and research activities across the U.S. and around the globe, CCAP is developing pragmatic solutions that balance both environmental and economic interests. More information about CCAP can be found at http://www.ccap.org.
###